Why hire furniture? Buying your own seems logical and that may be the case for one or two items. But if you're arranging events for hundreds of people, it's often more practical and cost-effective to hire.
Hiring furniture from a supplier frees you up to concentrate on all other aspects of event planning. No need to find all that extra storage, arrange for the transportation and having to decide which furniture to buy and which to cross-hire in. However, finding that supplier can be a headache all of its own. How can you be reassured that your contract furniture supplier has your best interests at heart and isn't simply motivated by their bottom line (and not protecting yours)?
When you hire furniture from Rosetone, we go the extra mile to ensure that you get the service you've paid for. No late deliveries, no damaged or missing items, no over-inflated invoices. You can rely on our reputation, built up over 30 years, for delivering great service and great quality, every time.
Great design is another must-have, in our opinion. You've told us that sourcing innovative products can be challenging, so we've addressed that issue by putting innovation at the forefront of our buying process. All our products are bought raw and hand-finished in our factory, giving us full creative control. Our most popular Chair Hire Styles are the Chiavari Hire Chair and the Crossback Hire Chair, but our Luxury Chair Hire range is growing in popularity too.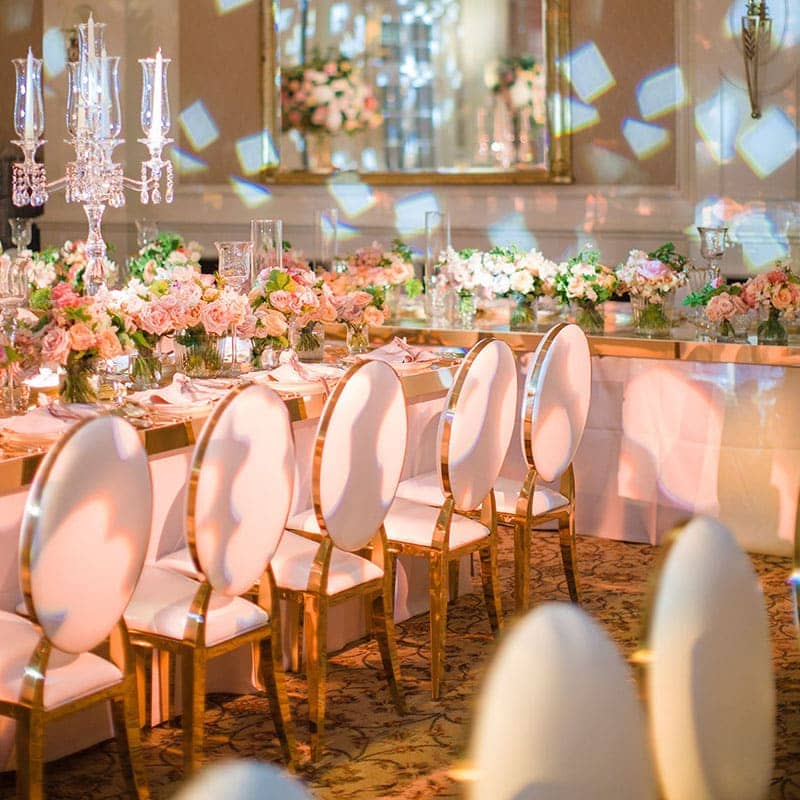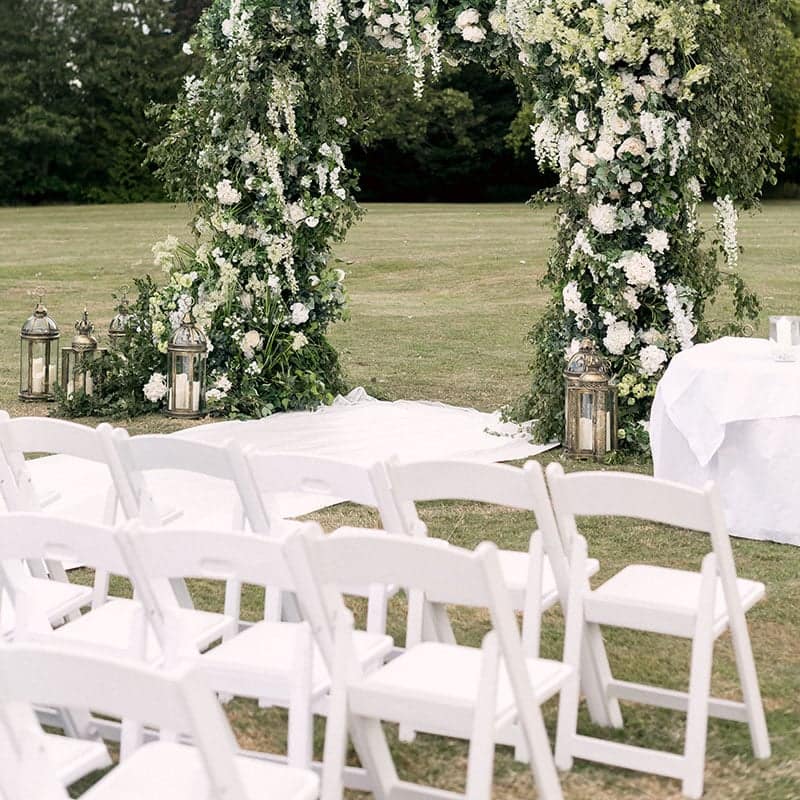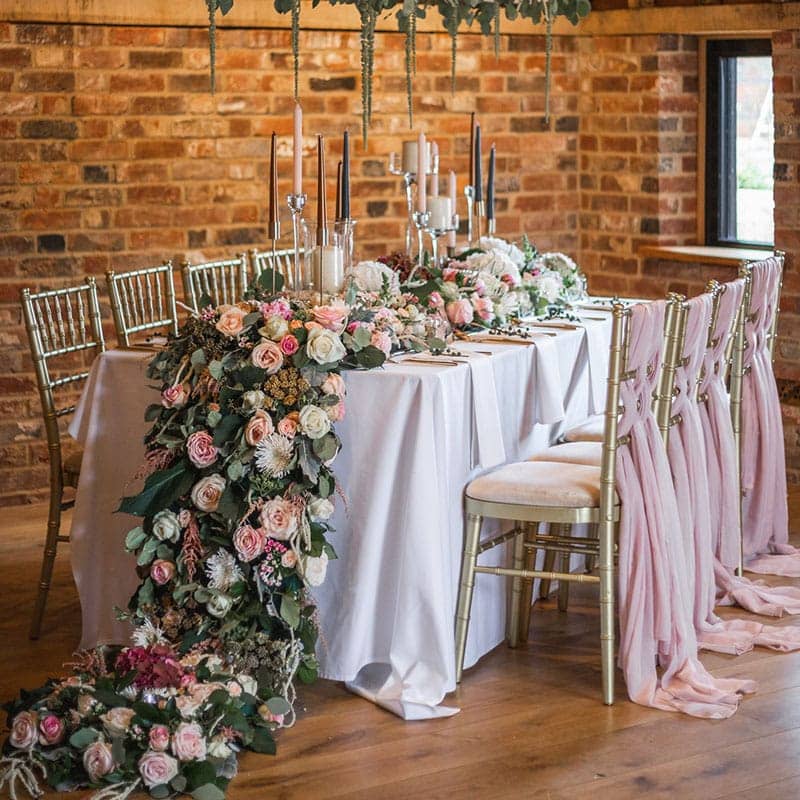 We supply furniture for weddings, for hotels, pubs, bars, cafés, marquee hire and many other venues. Hiring furniture in large quantities makes sense. You can choose different designs and colour ways each time to suit your clients' themes. Storage doesn't need to become a headache. And we take care of the upkeep and maintenance of all our furniture when wear and tear starts to show.
If you're a supplier, don't forget we offer trade accounts and for long-term product hire, there are some generous discounts available.
Some customers like to view furniture before they hire. You can visit our factory in Shefford, Bedfordshire – just let us know which items you'd like to see and we'll have them ready for you.
You can choose from hundreds of items including chairs, tables, linens and outdoor furniture. Everything is manufactured to exceptionally high standards – did you know we're the only contract furniture supplier in the UK to source raw wood products and hand finish them in our factory?
Check out the quality for yourself. We're sure you'll struggle to beat it.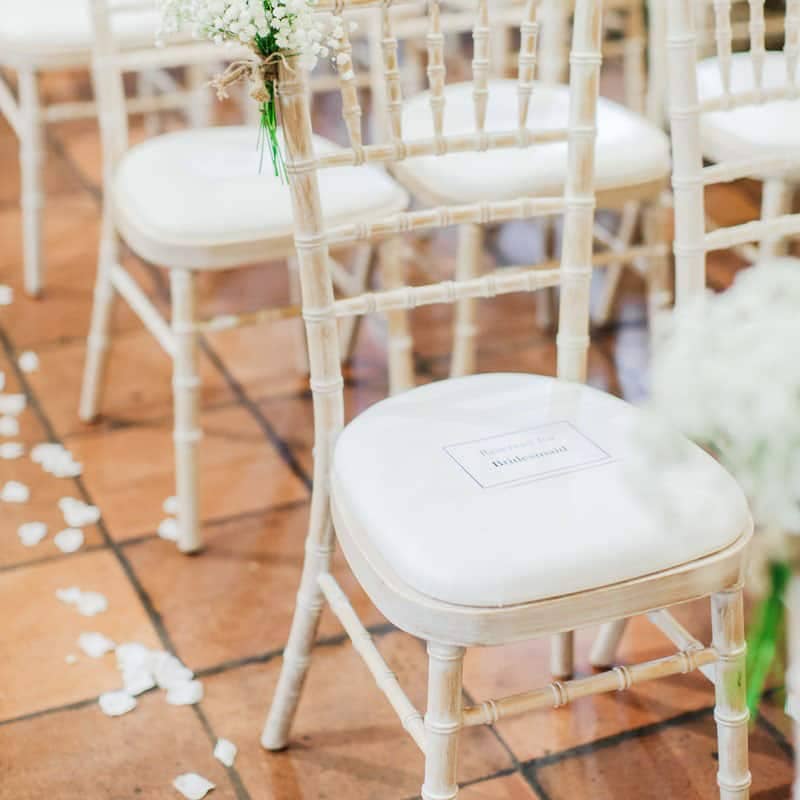 Chairs
With more than 10 chair styles to choose from, including the elegant Chiavari and the popular Bentwood, you'll be spoilt for choice. Our styles range from rustic to luxury with a variety of frame finishes and upholstery options.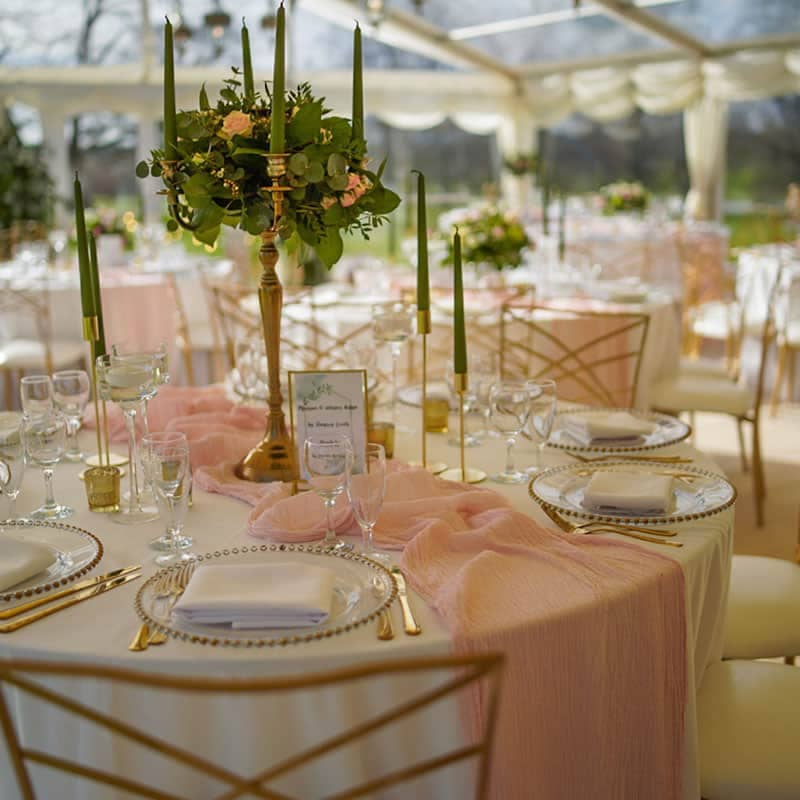 Tables
Different events call for different styles. Our trestle tables are always in demand and look great dressed in fresh linen. For your bar areas, we stock poseur tables and for outdoor events, our rustic range is ideal.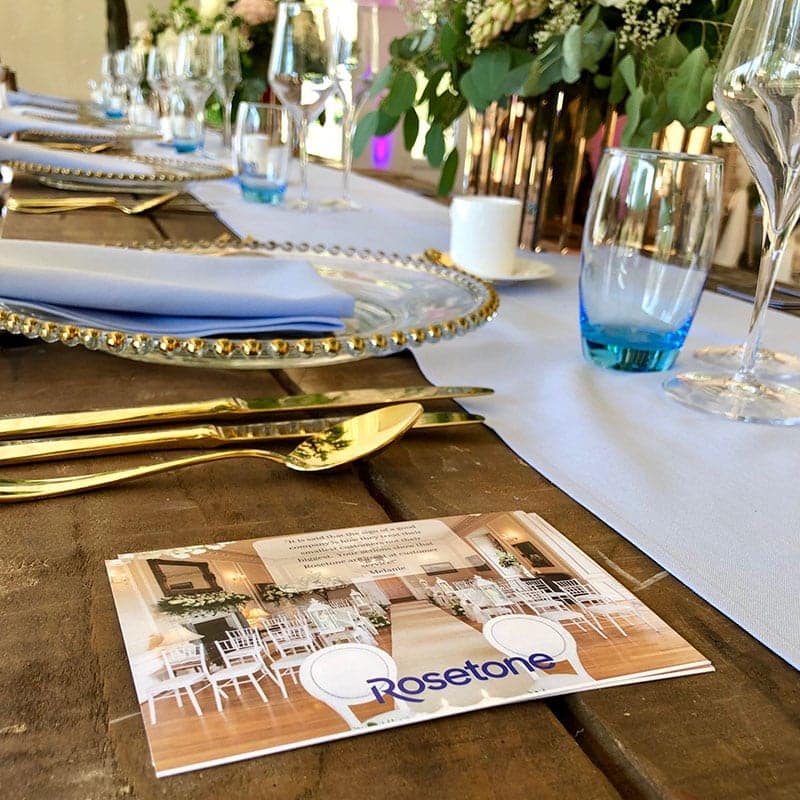 Catering equipment
We've got everything you need to cater for large events. From crockery to cutlery and glassware, simply choose the range you like and we'll do the rest. We can even supply BBQs and conveyor toasters for special occasions.
Linen
Managing linen and the laundry is a major headache for any venue – and a significant cost. When you hire from Rosetone, we deliver freshly folded tablecloths, napkins and chair covers, ready to go. You can even choose from range of colours.
Rustic furniture
Are you looking for furniture for a pub garden, a country hotel or a marquee being prepared for a summer wedding? Whatever the backdrop, our rustic furniture sets and individual tables and chairs make the perfect partner.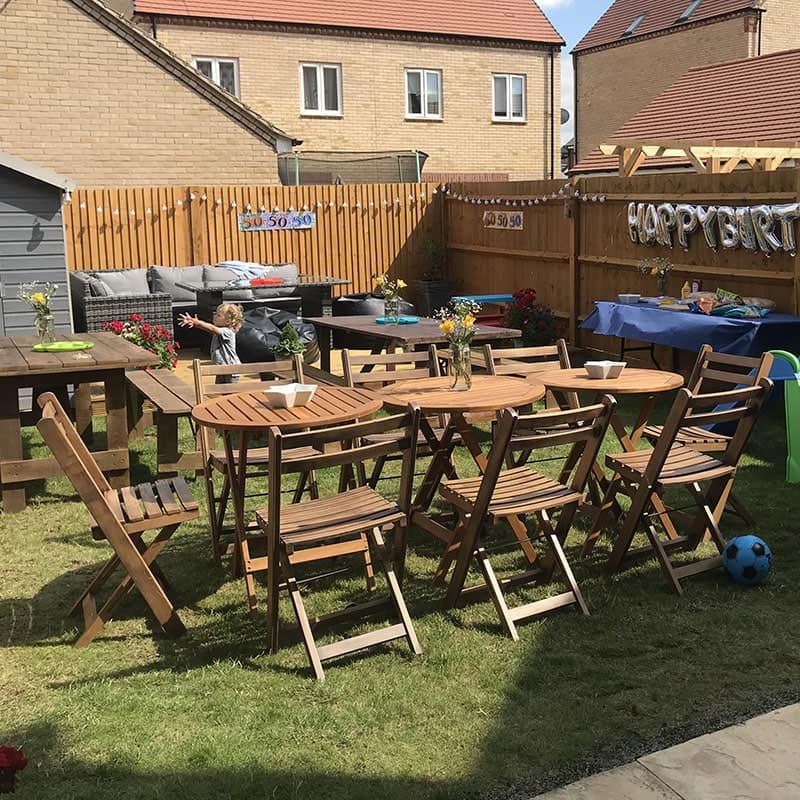 Garden furniture
Practical, comfortable and easy on the eye, every piece of our outdoor furniture range has been carefully selected. Choose from chairs and tables in a range of materials including wood and metal in different colour ways.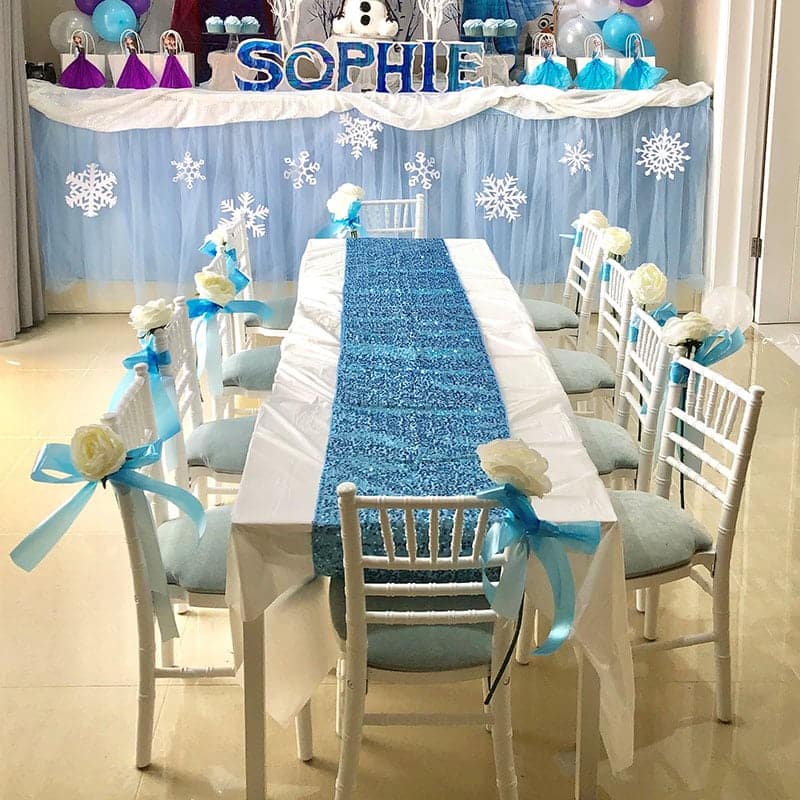 Children's items
Happy occasions aren't just for the grown-ups. So, it's important to ensure that the little ones are catered for. Our children's items fit the bill perfectly – chairs, tables and highchairs in practical wipe-clean whites and greys.
Standard and premium hire service
To ensure you always have access to great quality furniture, our policy is to repair and refurbish at the end of each season. We also rotate our stock carefully and remove any items which don't pass our quality control checks.
Sometimes, we are asked to supply furniture which has been newly refurbished and we offer this as part of our premium level service. What does this include? We guarantee to clean and refurbish any item before it is delivered to you.
Our hire options are listed below:
Standard hire
When you opt for standard hire, you will receive our 'standard' stock. It is kept in the best condition possible, receiving touch ups and resprays when needed. This is usually once per season.
Premium hire:
seat pad
If you want to partially upgrade, we can re-cover your seat pads, in a colour of your choice, before you hire to ensure they look brand new. Please note that you will still receive standard hire chairs.
Premium hire: chair
Alternatively, you can opt for a revamped chair. We spray all your chairs with a fresh coat of paint prior to hiring. Please note that you still receive standard hire seat pads (in a colour of your choice).
Premium hire: seat pad and chair
Wow your customers and their guests with the ultimate makeover and our deluxe option. Your chairs will all be freshly painted and your seat pads re-covered (in a colour of your choice).
Choosing your seat pad colour
As already mentioned, when hiring chairs from Rosetone, seat pads are supplied in a colour of your choice. We offer a range of standard fabric colours and they are included in the base hire price of each chair.
All chairs with removable seat pad options are available in the following colours: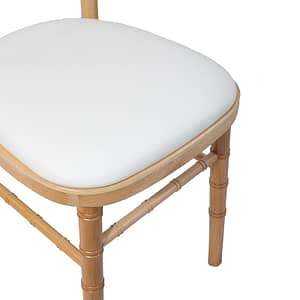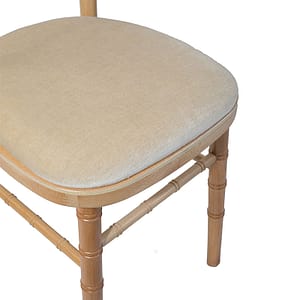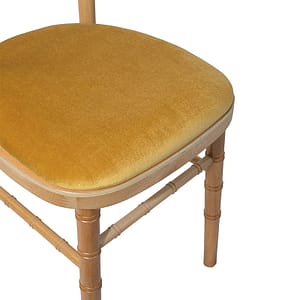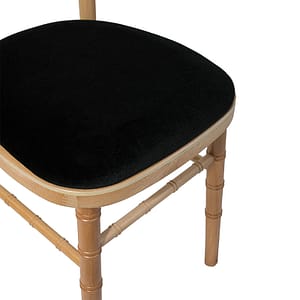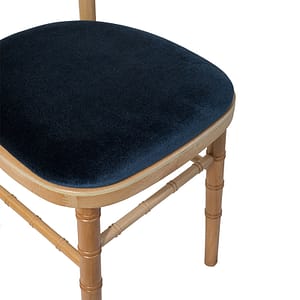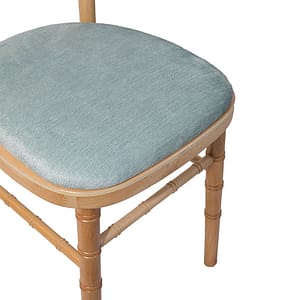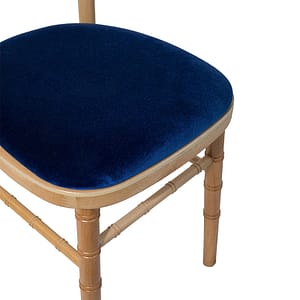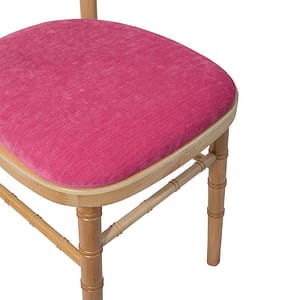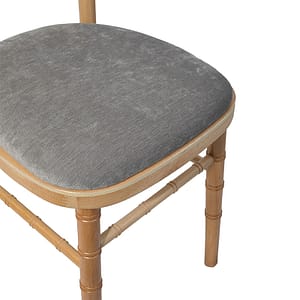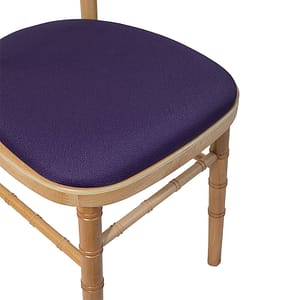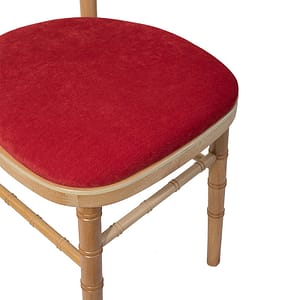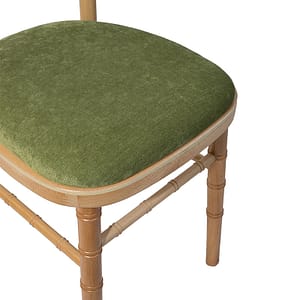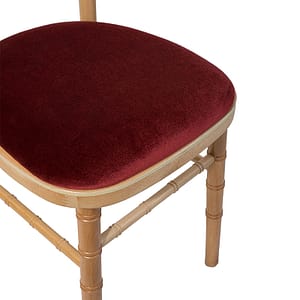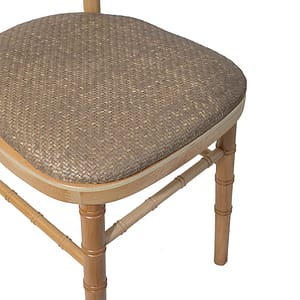 Most of our seat pads are supplied in a Draylon-type fabric which is soft on the skin yet hardwearing. The only exceptions are our rattan products and our chairs/sofas which come in white faux leather.
If you're looking for a fabric or colour way which isn't in our standard range, you can always upgrade to our bespoke service for an additional cost. Our bespoke range is larger and includes more fabric and colour options.
When you hire your chairs from Rosetone, the wood finishes vary according to the style of the chair. All our chairs are hand-finished in our UK factory.
Each chair listing on the website will have details of the frame finishes available.
Our Chiavari chair offers the most choice with six finishes (excluding the child's version which is available in white only). Our popular Bentwood chair is available in silver and gold while the Crossback and Folding Wooden chairs are supplied in an antique wash finish. All our rustic chairs come in a dark wood stain.
The chairs in our luxury range are hand-finished in specific frame / fabric combinations. The Dior and Malone come in a gold frame with a white leather seat pad, while the Louis comes in a white frame and a white leather seat pad.
When you hire sofas, you can choose from white, black and red leather options for the large two seater or white leather only for the two seater.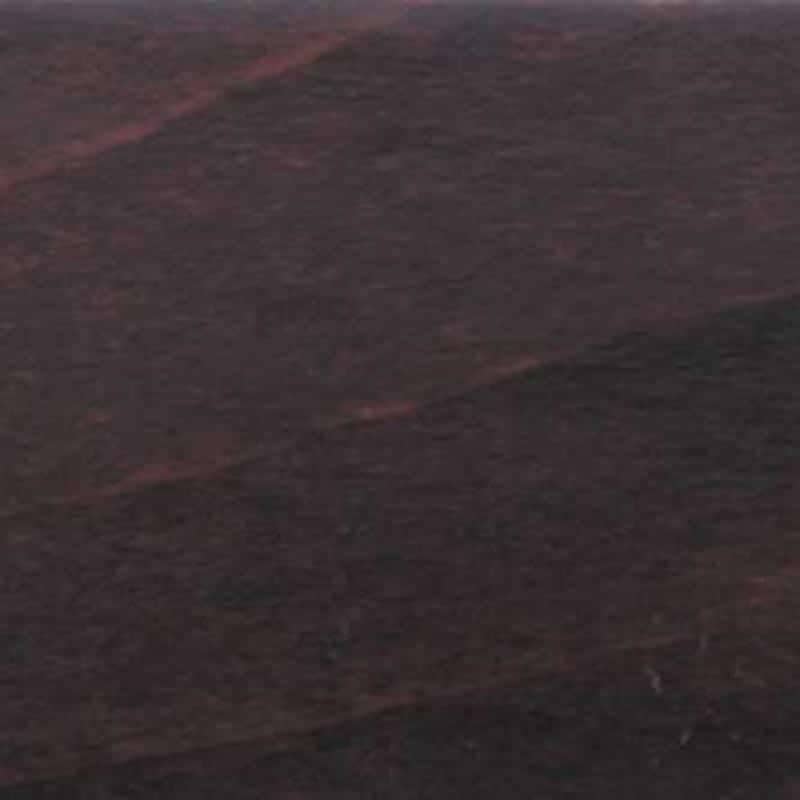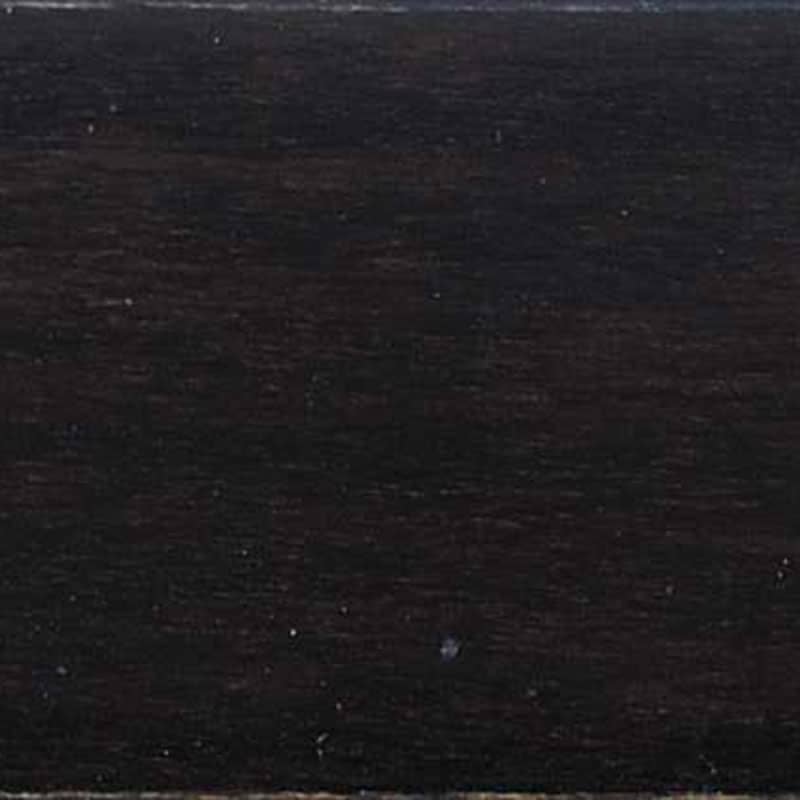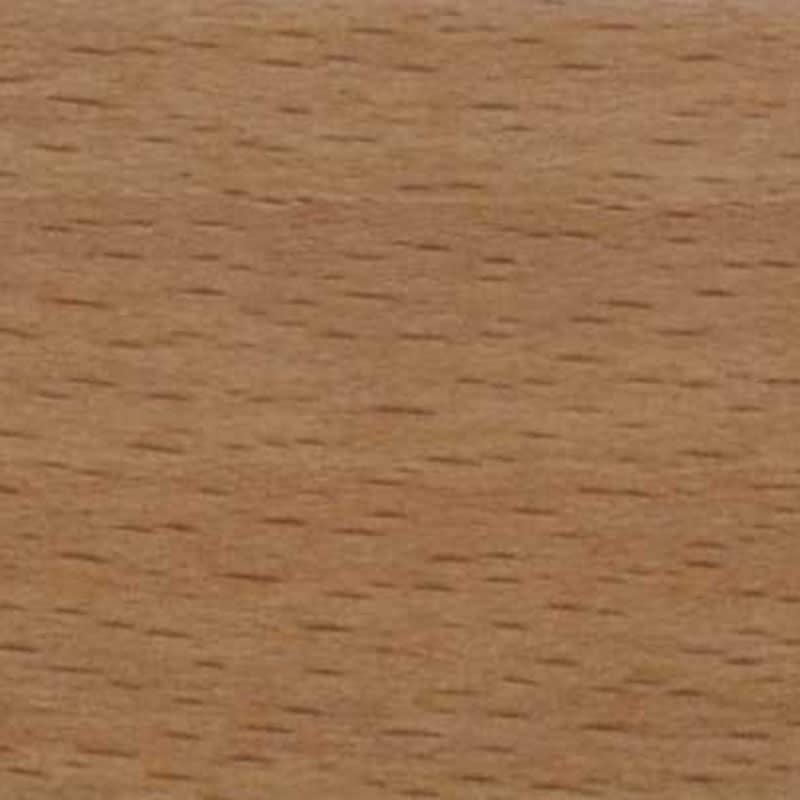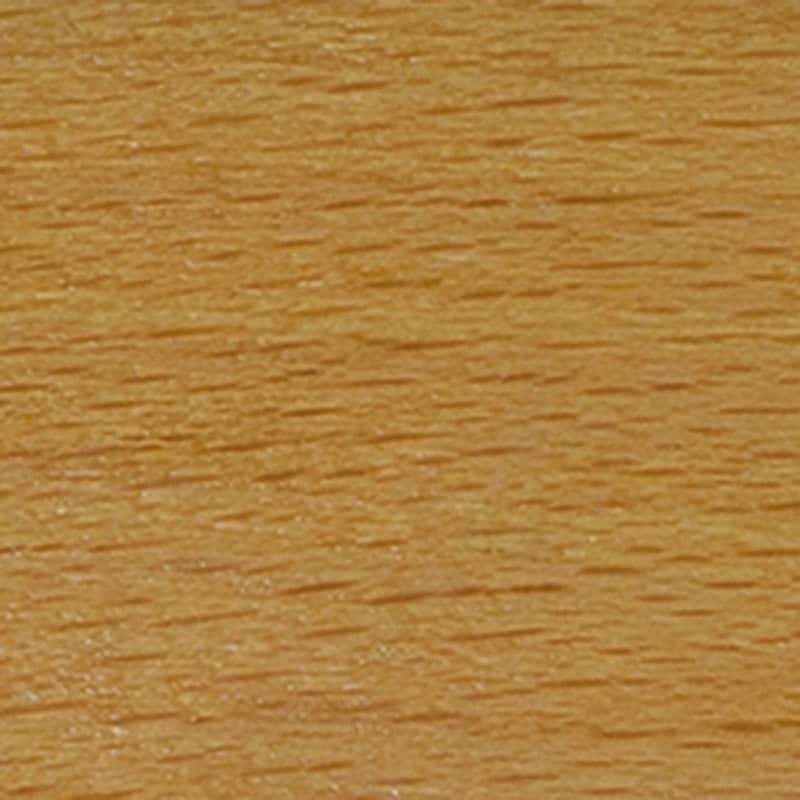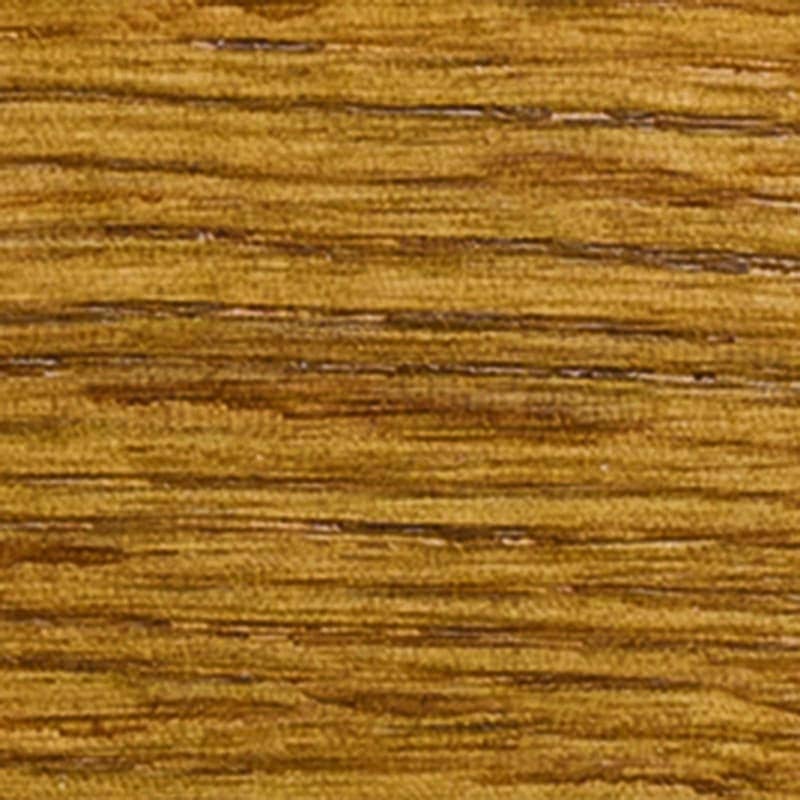 Arranging events can be stressful enough without needing to worry about the delivery of items you've hired. That's why our delivery processes have been designed to run smoothly and efficiently.
At Rosetone, we know it's not sensible to rely wholly on third party delivery services. That's why we have our own fleet of delivery vehicles and we oversee all deliveries personally. Occasionally, we'll need to use a courier service but if we do, we'll let you know, and we'll keep you in the loop.
Having our own fleet means we can be extra flexible about delivery time slots including late at night and early morning. We'll always do our best to keep to the times we've agreed (assuming traffic jams don't thwart our plans!) and we'll contact you an hour before delivery or collection.
We don't offer 'one size fits all' delivery prices as we don't think that's fair. If you'd like to find out more about delivery costs, please get in touch and we can calculate a price based on your postcode (anywhere in the UK and Europe).
Set-up / set-down service
Do you need extra manpower to set up and set down your room? Not a problem – our team are happy to help.
Are you're struggling with the perfect room layout or finalizing seating plans? Years of working with our clients has helped us to hone these skills and we're happy to pass our knowledge on to you.
If you're interested in either of these services, please get in touch for more details and a quote.
The booking process
So, you've found the perfect furniture on our website and you'd like to go ahead and confirm the details. What happens next?
1. At the time of booking, we require a 50% deposit to secure the items you've chosen. We're happy to do this on the phone and can take payment via debit/credit card or bank transfer (please note we charge a 2% fee for credit cards).
2. Once your booking has been processed, you will receive a confirmation order via Adobe Sign which is a secure, electronic signature service. Please make sure you sign this document to agree to our terms and conditions or your order may be affected.
3. As we draw closer to your deliver date, we'll be in touch again to confirm delivery details. Please see the Delivery section above for more information.
Terms and conditions
Our terms and conditions are there to protect you throughout the hire process and ensure that everything is clear prior to booking. Please make sure you read them thoroughly before you sign the confirmation order.
Need to amend a booking?
If you find that you need to add or remove items from your booking or make other changes such as frame finish or seat pad colour, you can do this up to a month before your delivery date. If you are removing items from the booking, there is a cap of 10% of the original booking value.
Please remember that the prices of our chairs vary and making changes to your order may increase the total cost. Seat pad colour changes do not affect the price (as they are included in the price of the chair) unless you wish to swap to a colour from our bespoke collection.
All price changes will be confirmed to you at the time of altering your booking, either by email or by phone.
Making your final payment
One month prior to delivery, your final payment becomes due. At this point, we will also ask you to confirm final numbers. Please be aware that we cannot amend your order after this date.
Price match guarantee
We're proud of the quality of our products which are all hand finished in our factory and we truly believe you'll struggle to find a superior alternative.
It doesn't happen often, but if you do receive a cheaper quote for an order which is an exact match, we'll be happy to refund the difference. Please note that the items must be identical.
Damage waiver
To insure you against minor damage to any items you hire, we charge a small waiver fee of 4%. This gives you peace of mind that if small scratches or drink spills occur, you are covered.
For items which are badly damaged or not returned to us, we charge a replacement fee in accordance with our terms and conditions.
If you would like to take out your own insurance policy for furniture hire, please get in touch and we'll share with you the details of our insurance provider.
If you have any other questions, we're always happy to chat. Alternatively, take a look at our FAQs page where you'll find answers to many other queries we receive.
We hope you like what you've seen and we're confident we can find the right furniture for the event you're planning. Our customers range from brides to hotel, bar, café and restaurant owners to conference and wedding venues to marquee hire companies. At Rosetone, there's something for everyone.