Sourcing good-quality furniture that is hard-wearing, and doesn't blow the budget can be challenging. With so many suppliers vying for your business, finding someone you trust to work with is crucial.
For over 35 years, we've built our business and Rosetone's reputation on being that partner. We select only the finest furniture from our suppliers, which we hand-finish in our Bedfordshire factory. No attention to detail is spared, ensuring the highest quality results. We stay ahead of current trends, resulting in helping you find the right product for your venue and event.
Spotlight on Our Services
We offer various furniture options, including chairs, tables, sofas, bars, stools, and other accessories such as tableware and linen. We also offer delivery, setup, and pickup services to make hiring as convenient as possible for our clients.
Our hire stock gets regularly refurbished to keep our furniture in tip-top shape ready for the busy months. Hiring is ideal when you need large quantities but may only need them a few times a year. More importantly, it's hassle-free; place your order and let us take care of the rest.
For larger venues that need furniture all year round, buying your own makes sense. We have hundreds of products in a range of designs, colours, and fabrics for you to choose from. Everything is on-trend, and there's ample choice for everyone's tastes.
We are the only contract furniture supplier in the UK to buy our furniture in raw wood before finishing it by hand in our factory. This gives us 100% control over the quality of the raw materials and the quality of the finish. This attention to detail is evident in every aspect of our business, and we pass this commitment to quality on to you.
We regularly repair our hire stock, therefore when you hire from us, you have great quality products. For customers who own their furniture, we offer an in-house refurbishment service. This takes care of any bumps, stains, or tears.
Our colour-matching capabilities are excellent. We match all RAL, Pantone, and Farrow & Ball colours. We can even compare to a bespoke sample for furniture you already own.
You can trust our team of technicians to do a fabulous job, and our fast turnaround times are industry-busting. Therefore there is no waiting six to eight weeks to see your furniture again – we can usually return your items within 3-4 days.
Celebrating over 35 years of Rosetone
Our story began in 1987 when Rosemary (Rose) and Tony (Tone) Goodley started the business. They had a small factory and office in Stevenage with 100 chairs and one van.
In 2007, Rosemary and Tony's daughter, Michelle and her partner Andy, joined the team. This coincided with Rosemary and Tony commencing their retirement in 2008.
With Michelle and Andy at the helm, Rosetone continued to grow and expand. In 2009, larger business premises were needed and Rosetone relocated to Wren Park Business Centre in Shefford.
In 2021, Michelle's son Warren took over the business which will eventually lead to Michelle and Andy's retirement whilst keeping it in the family. He now running Rosetone, with the support of his siblings who have been in the company for almost 10 years.
We now hold stock of over 26,000 chairs and 1200 tables along with a range of event furniture. We are immensely proud of our progress and that a large proportion of our work comes from repeated customer referrals. Above all, our business mantra has always been to treat each client individually, not as a number on a spreadsheet. The personal touch goes a long way, and it's certainly our intention to continue doing business in this way.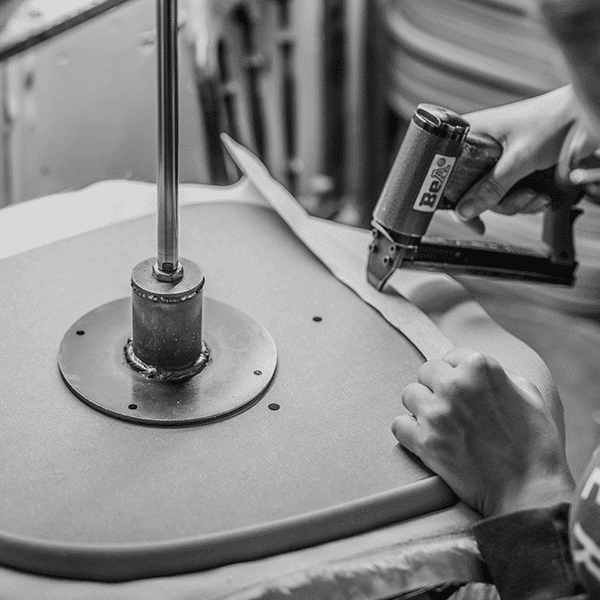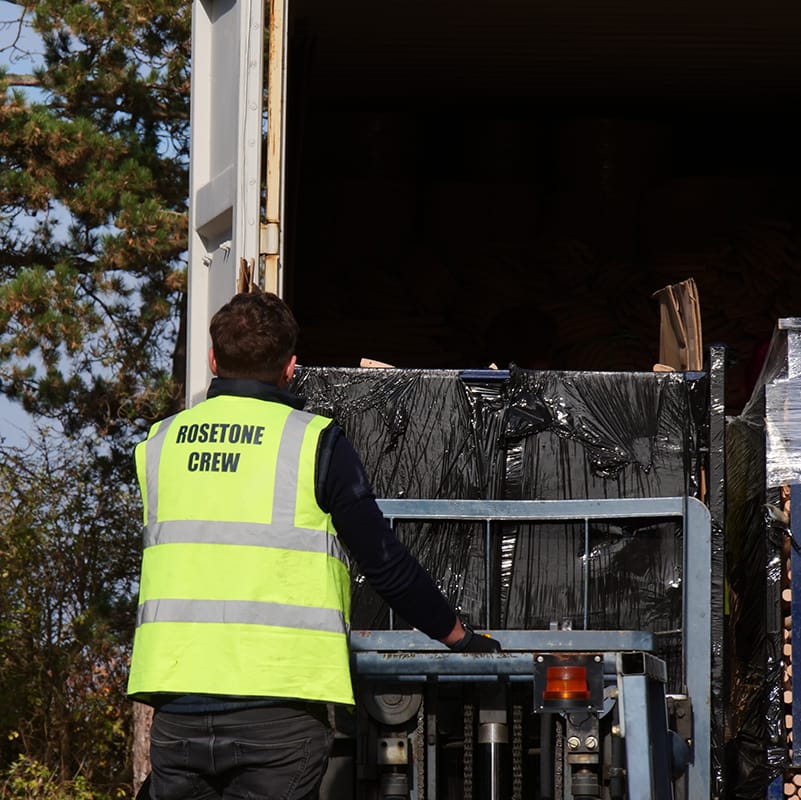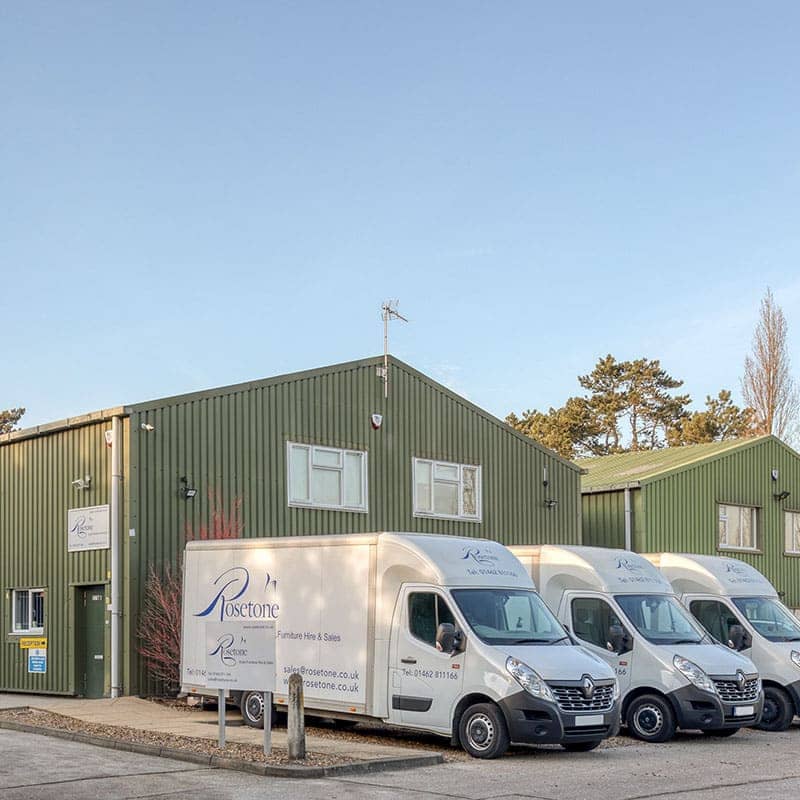 Staying Ahead with the Best Technology
Our Electrostatic Robotic Sprayer is one of our newest investments, it is an innovative and effective solution for spraying chairs quickly and efficiently, helping to maintain a clean and safe environment for employees, customers, and guests. They are also eco-friendly, as they use less cleaning solution and create less waste compared to traditional cleaning methods.
The robotic aspect of this device allows it to move autonomously and navigate around chairs to ensure full coverage of all surfaces. This makes it a time-saving solution for venues or businesses with a large number of chairs that need to be sprayed regularly, such as event spaces, restaurants, hotels and offices.
Another investment we have recently made is our Chair Drying Oven Conveyer, which is a specialised device used for drying and curing the finish on newly painted or stained chairs. This type of oven is designed to provide a controlled and uniform environment for the drying process, which helps to ensure that the finish is even and consistent across all parts of the chair.
More equipment we have which has increased production efficiency and quality of the finished product is a Chair Press which is used to press together the various components of a chair to ensure a tight and secure fit. We have a Chair Leveller which is used to adjust the height of chair legs to ensure stability and balance on uneven or sloping surfaces and we have a Semi-Automated Sanding Machine.