Marquees and tipis provide stunning social spaces which can be dressed and themed in numerous ways making them endlessly versatile. If you're a marquee or tipi hire company, looking to hire or buy furniture and linens, you'll understand the importance of working with a contract furniture supplier who shares your business vision.
That's why our customers choose us. By partnering with Rosetone, you have access to our large and diverse range of products, at competitive prices, which means you can instantly create a complete events package to offer directly to your clients.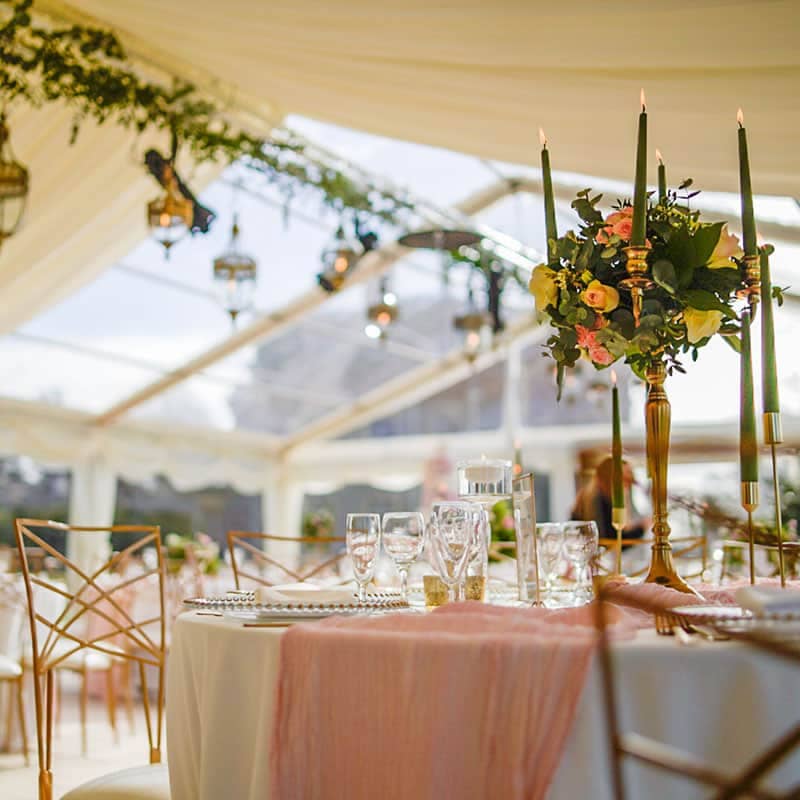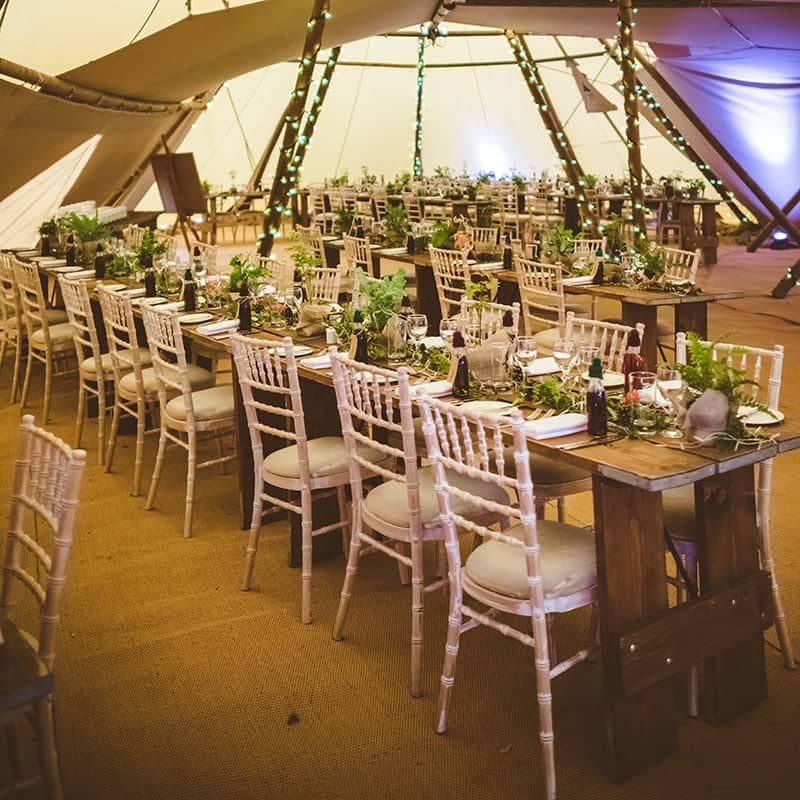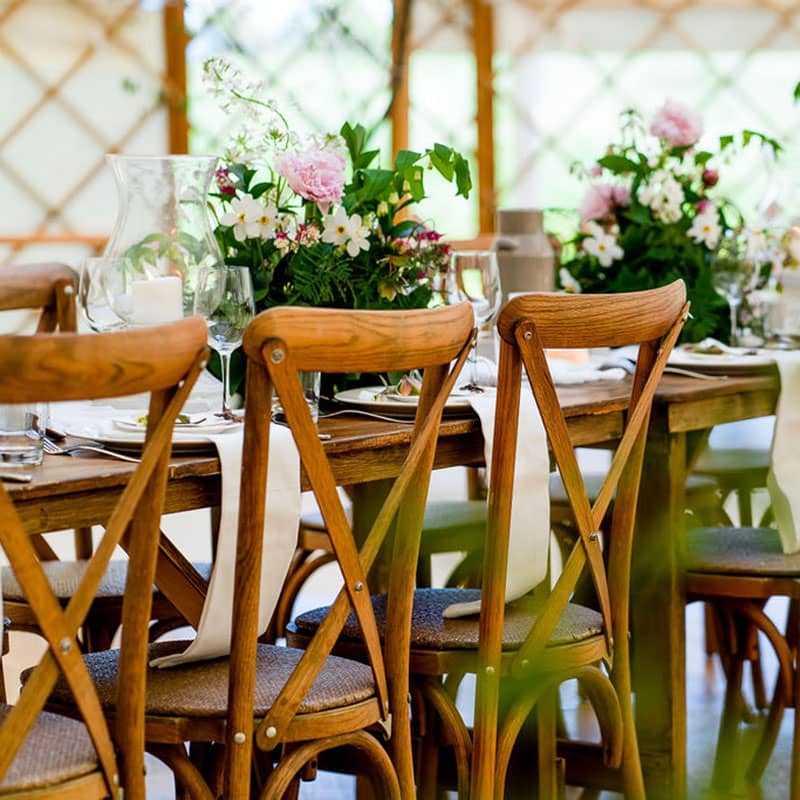 Work with us and enjoy the advantages of more than 30 years' experience delivered by an enthusiastic and proactive team. Even better, we're the only contract furniture supplier in the UK to hand-finish all our furniture which we buy raw and transport to our state-of-the-art factory.
For chair, table and linen hire, you should demand only the best. We agree. That's why at Rosetone, we deliver only the best.
Marquee furniture for hire

There are many reasons why you might choose to hire furniture from us. Some marquee companies don't have storage space and will hire for each event they run. Others turn to us to hire specific styles for a themed event, for example our luxury Louis or Dior chairs.
All our terms and conditions are clearly outlined here so please take a look and let us know if you have any questions or concerns. Don't forget that we offer trade accounts to suppliers and for long-term product hire, there are some generous discounts available!
Here are a few examples from our extensive range: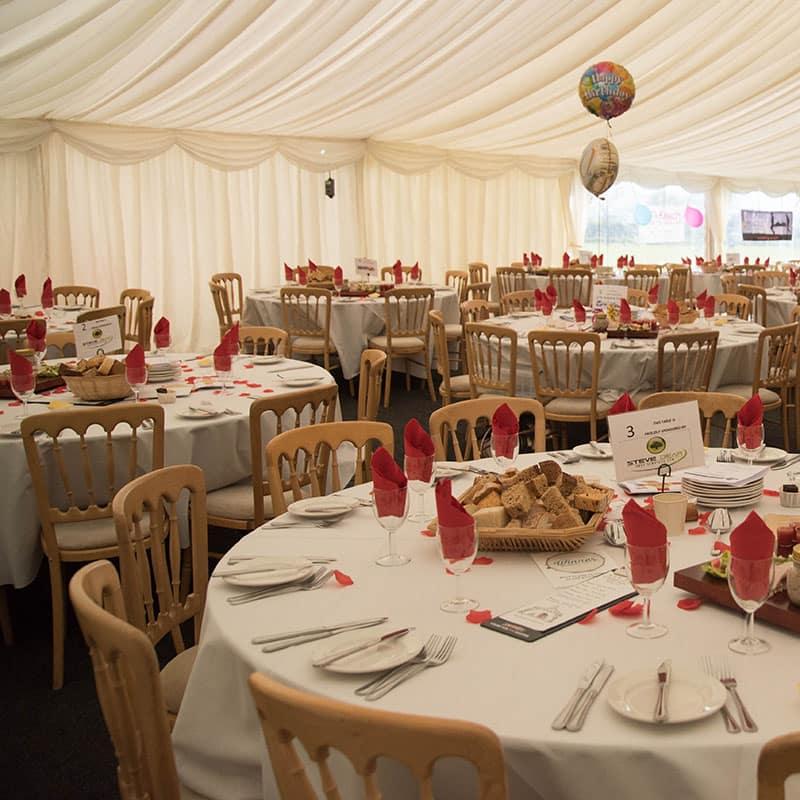 Banquet chairs
The most popular chair in the UK for weddings and other events, the Chiavari's stylish beauty is hard to beat. Choose from a range of colours; black for masculine elegance, silver for sophistication, or white for simplicity and grace.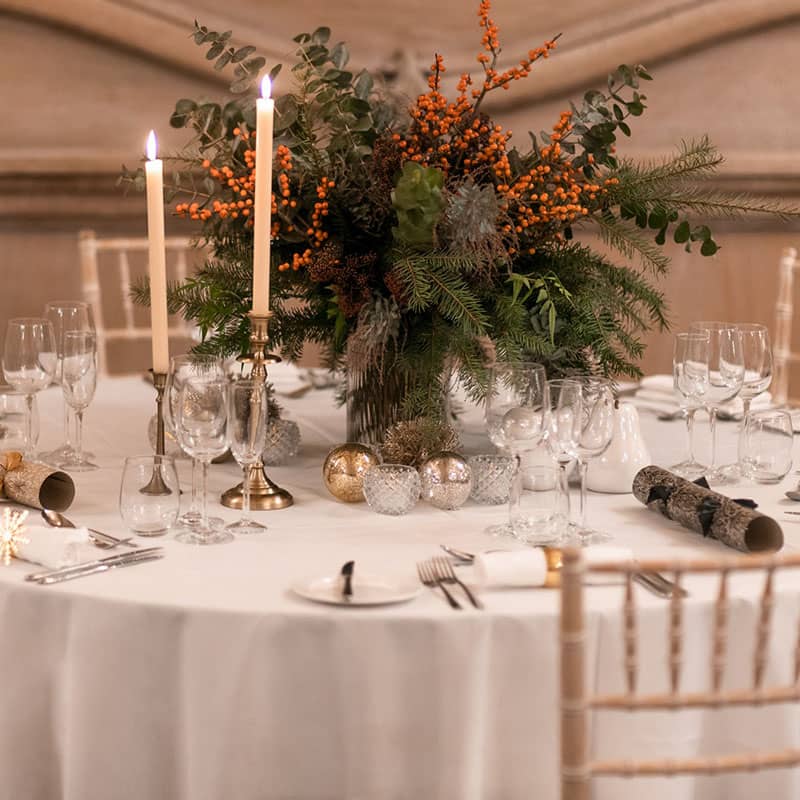 Linens
Hiring linen frees you up to focus on other important tasks. We deliver all our linen – tablecloths, napkins and chair cover – to you in pristine condition. After your event, simply return to us and we'll take care of the rest.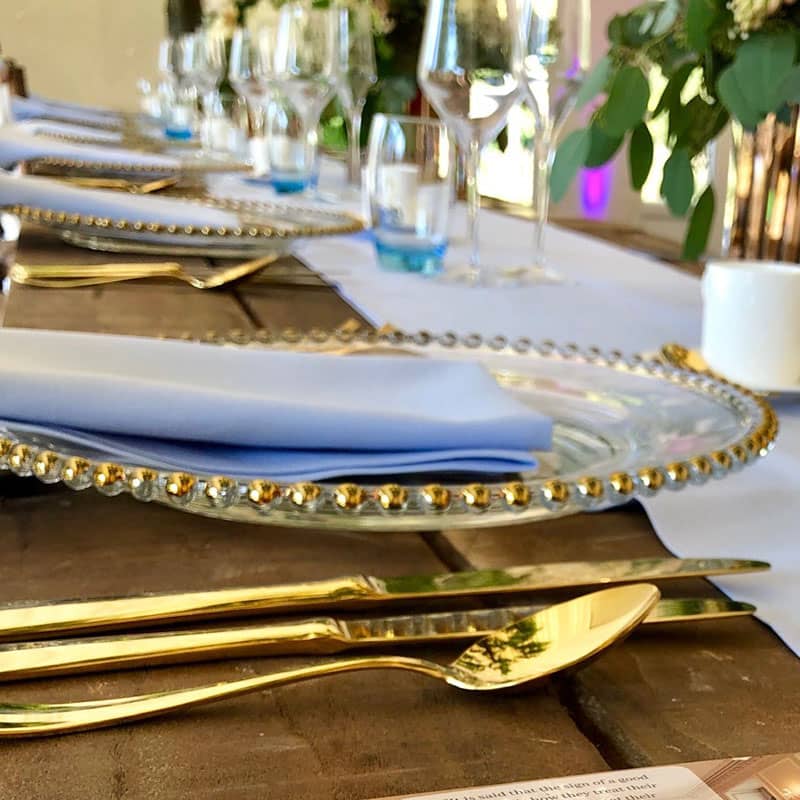 Catering equipment
We're confident you'll find everything you need to cater to your guests. From gorgeous glassware to stylish sets of crockery, we have everything covered. We even supply BBQs and conveyor-style toasters.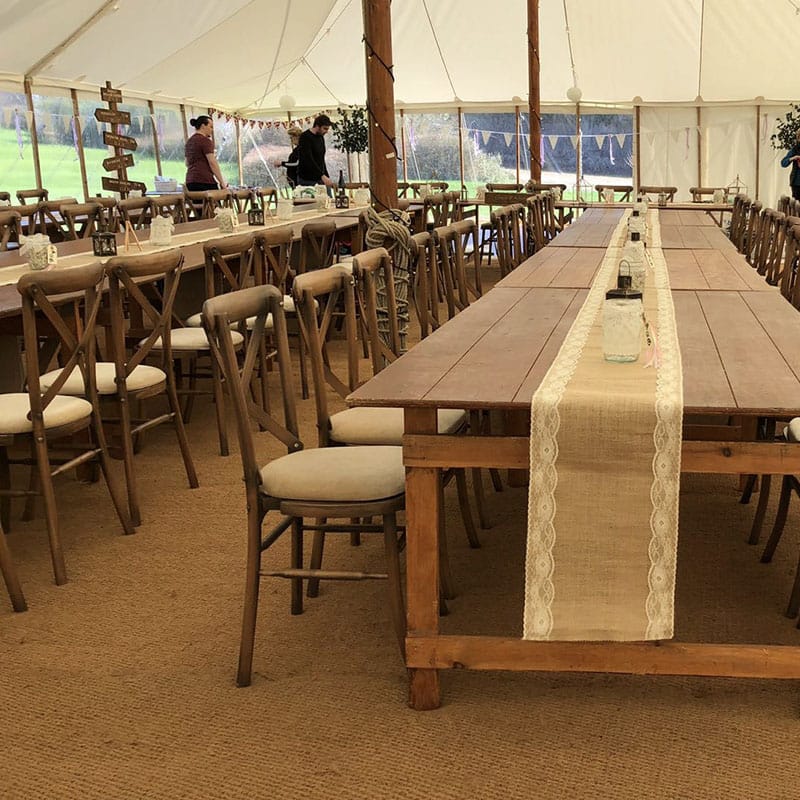 Rustic furniture
Hiring furniture is a cost-effective way to boost your own product range. You may not get many requests for a rustic look, but when you do, our range of rustic furniture fits the bill perfectly.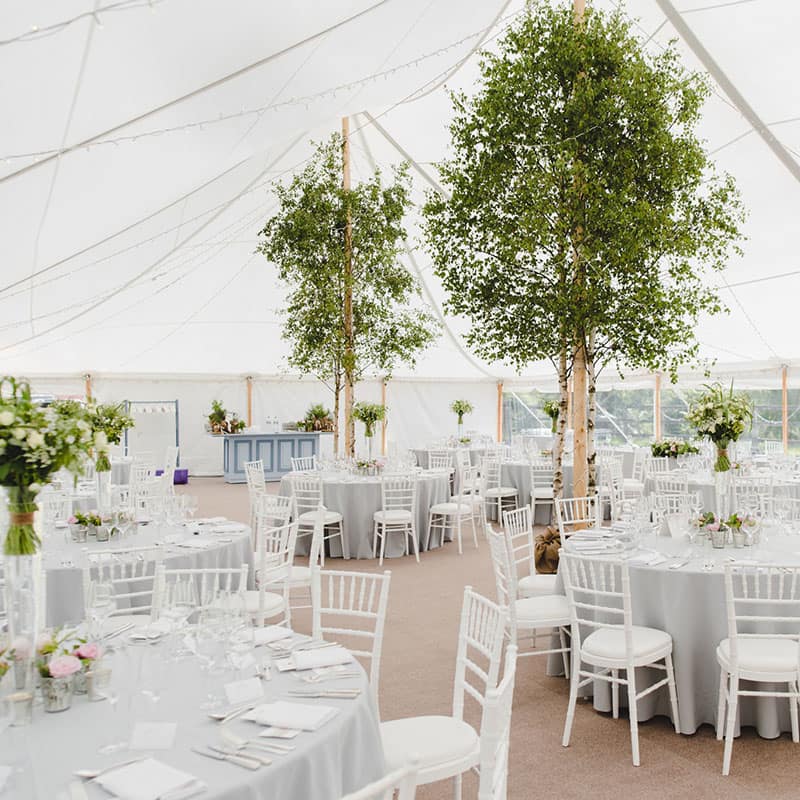 Folding tables
Easy to transport and to assemble, our folding tables are the perfect hire option for your marquee company. With floor plans varying from event to event, our trestle and round folding tables in a range of sizes certainly come in handy.
Standard hire – or upgrade to premium?
Our policy for furniture hire is to repair and refurbish at the end of each season. All our stock is rotated throughout the season to ensure you receive the great quality you should expect from Rosetone.
However, for customers who require items without any imperfections, we offer a premium level service. This guarantees that your furniture will have been cleaned and refurbished before it is delivered to you. You can choose from three premium hire options:
• premium seat pad hire: we refurbish or replace all seat pads
• premium chair hire: we respray all chairs
• premium seat pad and chair hire: both seat pad and chairs are refurbished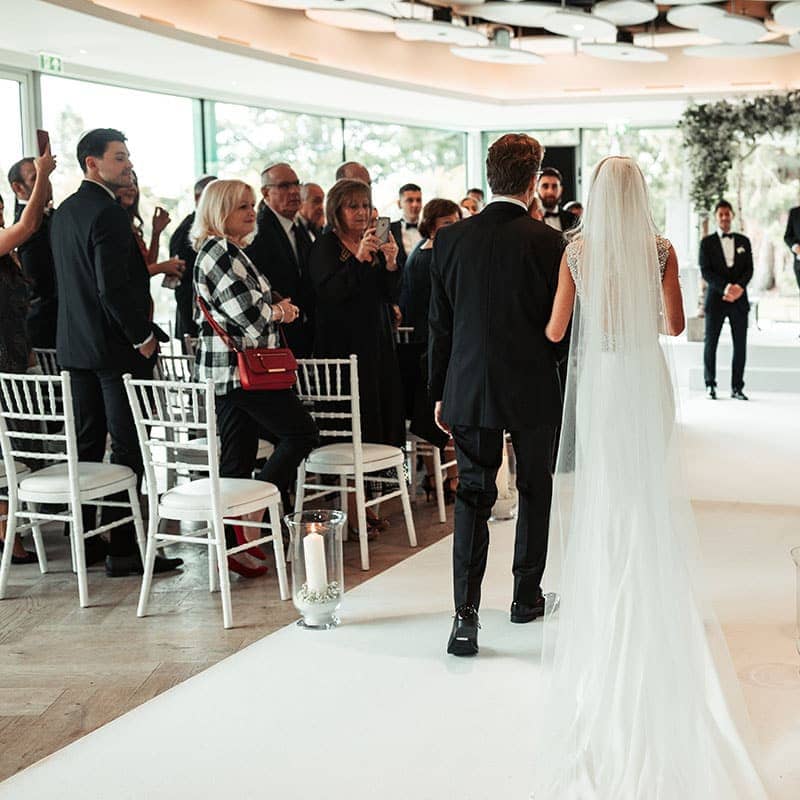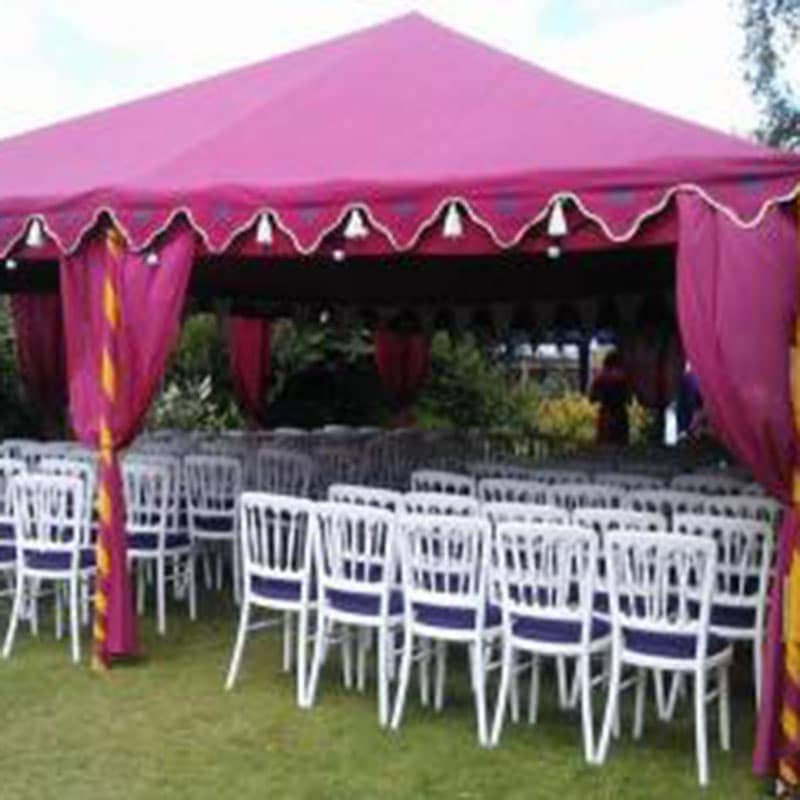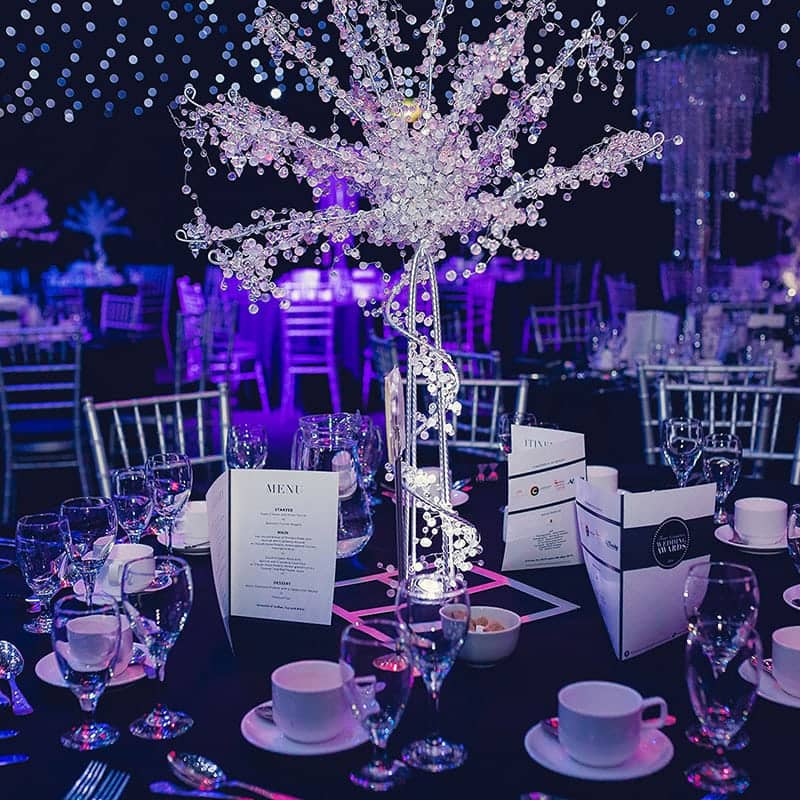 If you've decided to buy furniture rather than hire, it makes sense to opt for a supplier who places a premium on quality. We have stringent checks in place to ensure the furniture we buy is crafted from the finest materials – and of course, we hand finish each item in our own factory.
Our range of furniture to buy includes hundreds of items in numerous designs. We're sure you'll find something to love.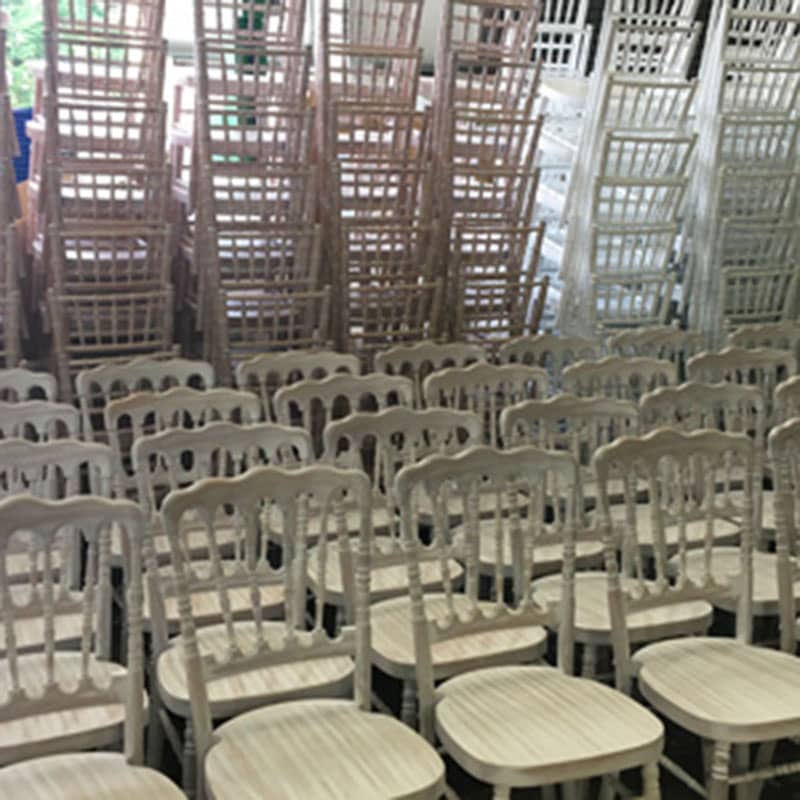 Stacking Chairs
There's a chair for every occasion in our stacking range and they're all crafted to perfection. From modern, to vintage, to luxe to minimalist. If you've got a theme in mind, there's a stacking chair to suit.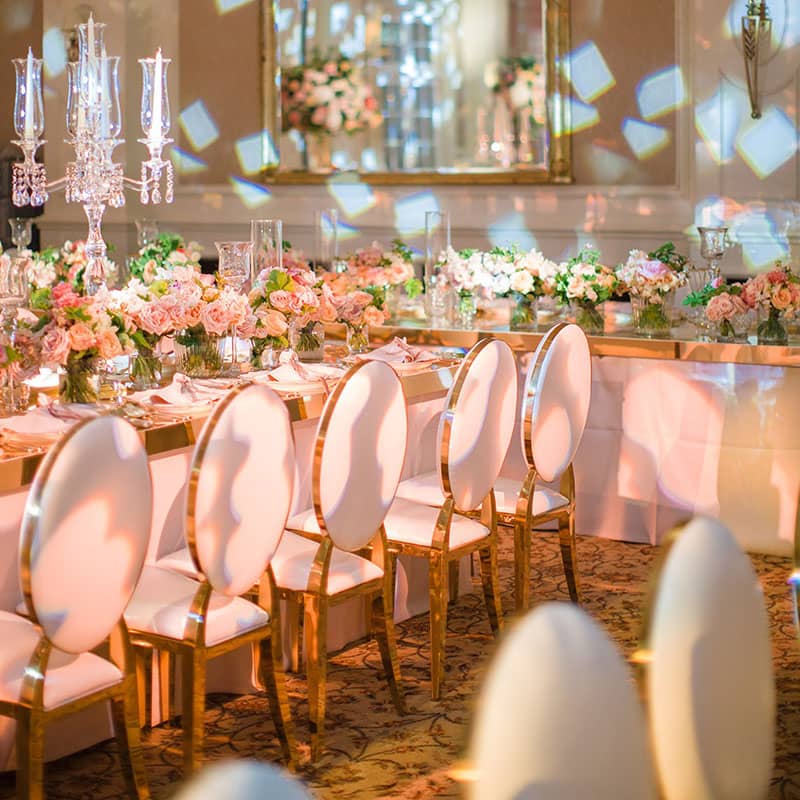 Luxury Chairs
What does luxury mean to you? Is it a deep leather tub chair? Or a chic resin cross-back chair? Perhaps it's charismatic, leather and gold metal side chair? Take a look at our luxury range and you won't be disappointed.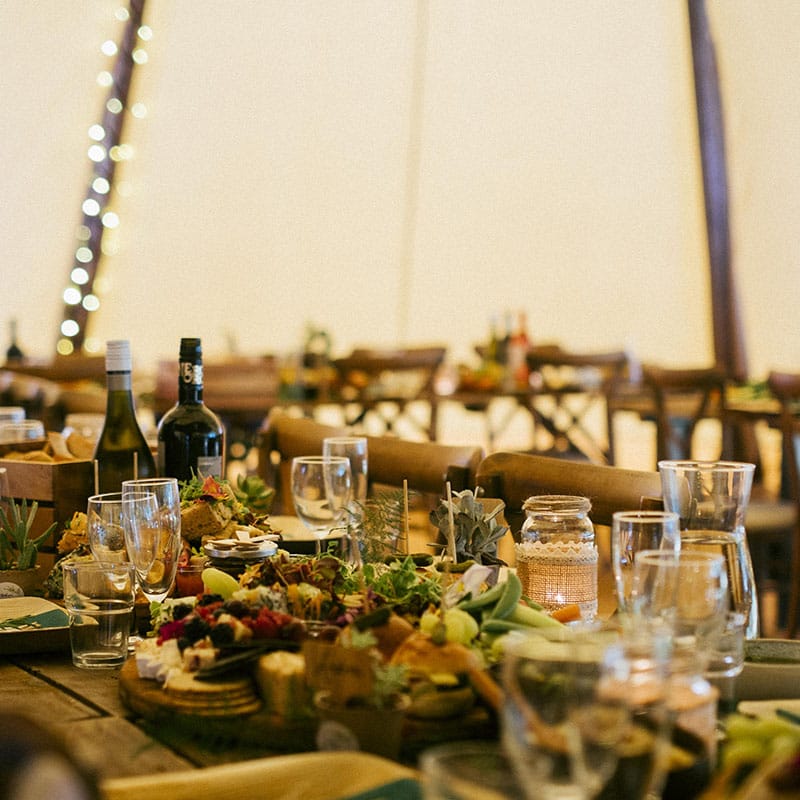 Rustic furniture
Create a country feel with our range of rustic furniture. It's also ideal for dressing outdoor spaces if you're hosting summer weddings and parties. Choose from a furniture set or individual tables, benches and chairs.
Folding tables
No matter which layout you're planning, we've got tables to fit. Our trestle and round tables are available in different sizes and they all fold down for easy assembly and storage. Our 5ft round tables are a popular choice for many events.
Linens
Real linen is incomparable when you need to add the perfect finishing touch. With its crisp clean lines, you can style your guests' tables to perfection. Our tablecloths are available in several sizes and don't forget we also stock napkins and chair covers.
Choosing Your Chair Fabric
When you hire or buy an upholstered chair (i.e. seat pad or chair back), you can opt for one of our standard fabric colours which are included in the base price of the chair. All colourways are listed alongside the chair.
If none of the standard colours are suitable, we can supply seat pads in a different fabric or colour. All you need to do is upgrade to one of our bespoke fabrics, for an additional cost.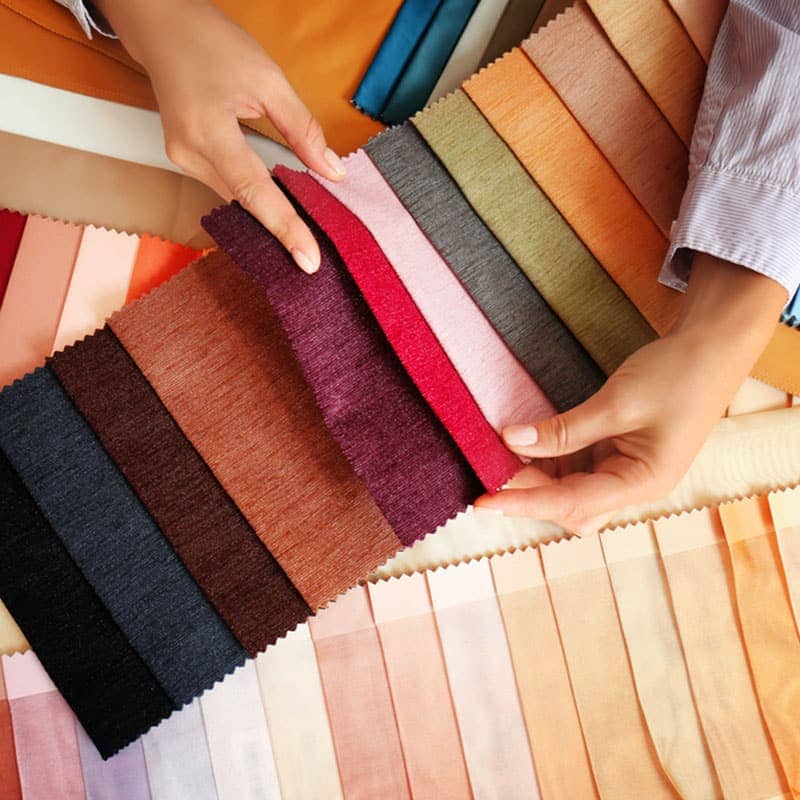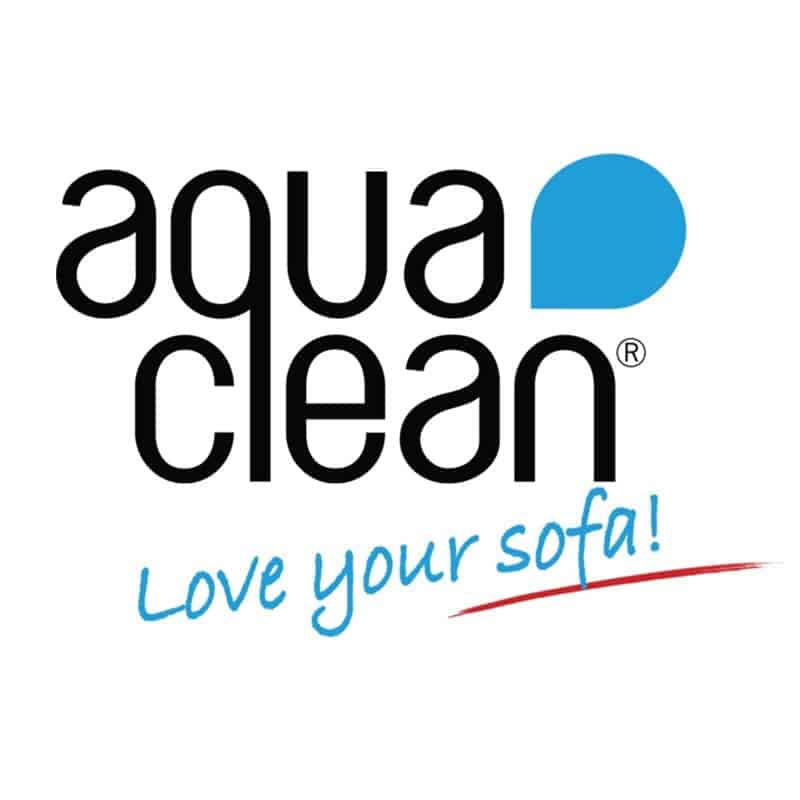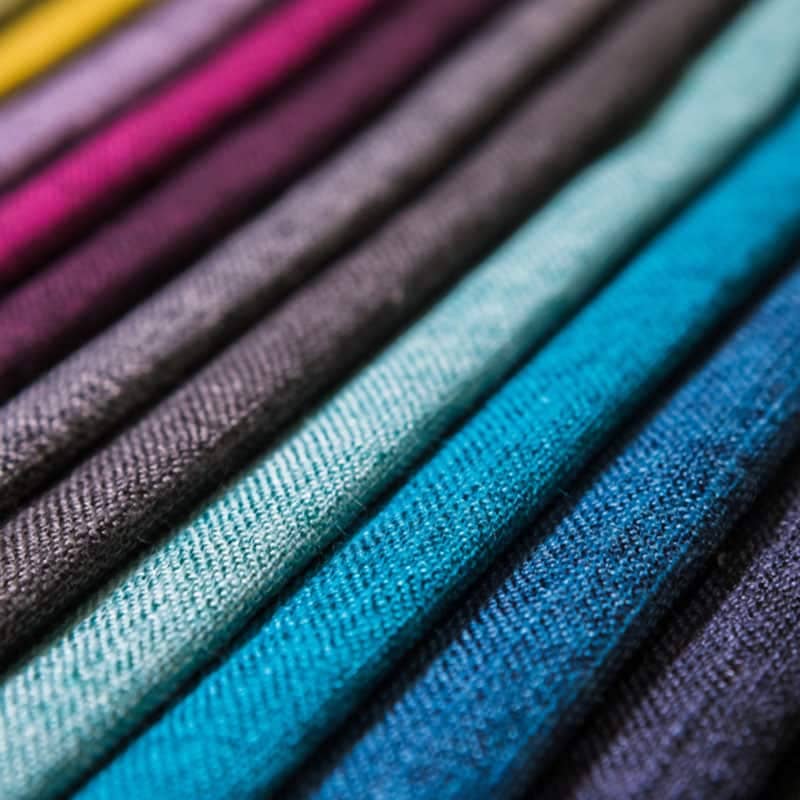 The choice of frame finish depends on whether you hire or buy. Our range of hire chairs is huge with finishes such as Limewash, Natural, White, Silver, Gold, Black and Antique Wash. However, when you buy, we can finish your chair in any colour, from our standard and bespoke ranges. Why not stand out from the rest and choose a wood finish that complements your marquee or tipi, such as mahogany or beech?
There are twelve standard wood colours available in seven lacquers and five stains, as well as selected chairs available in Cherry, Teak, Oak and Wenge.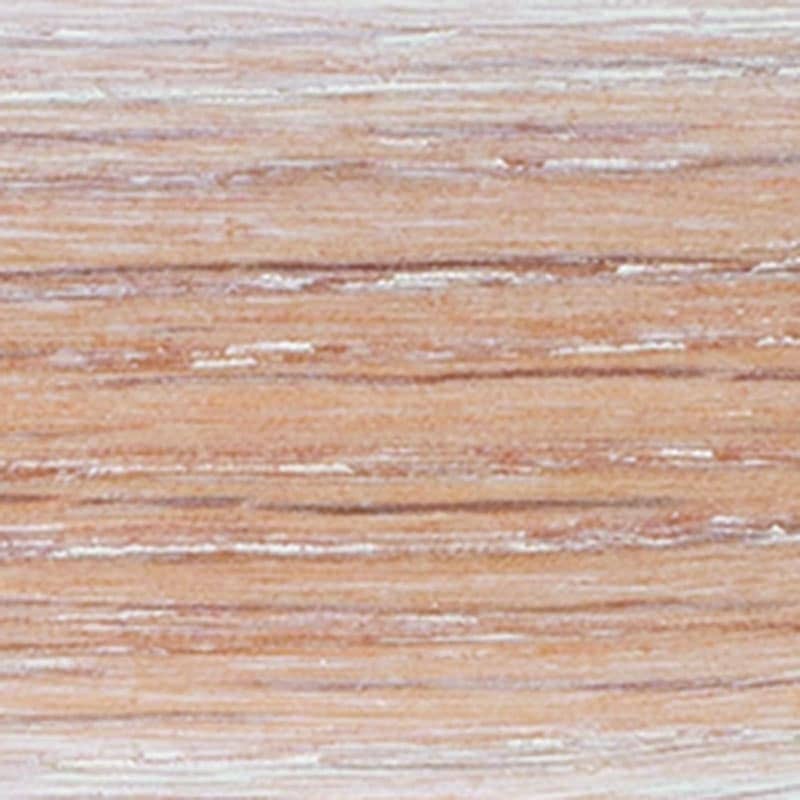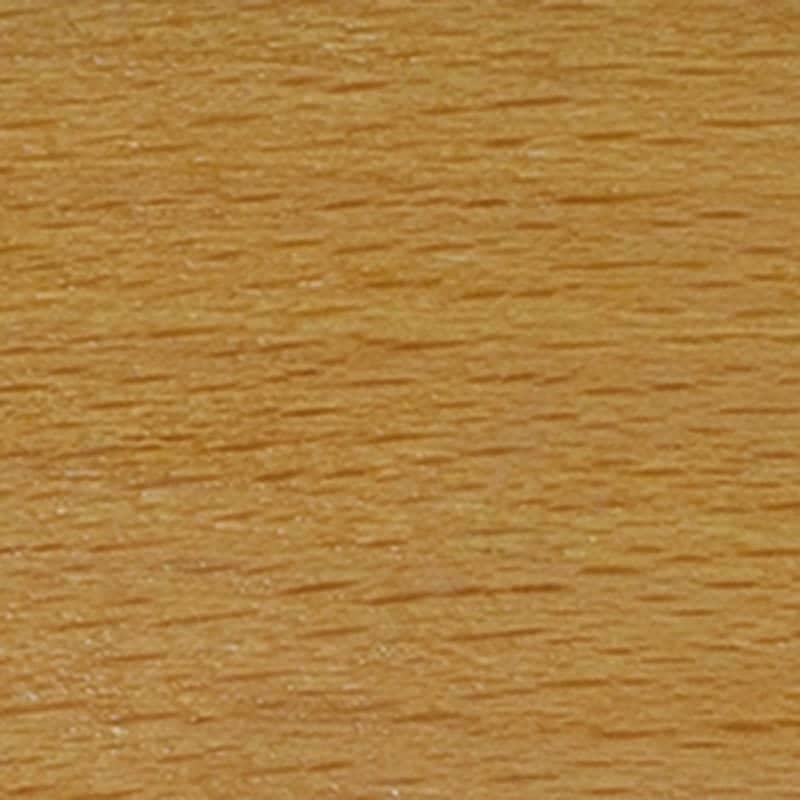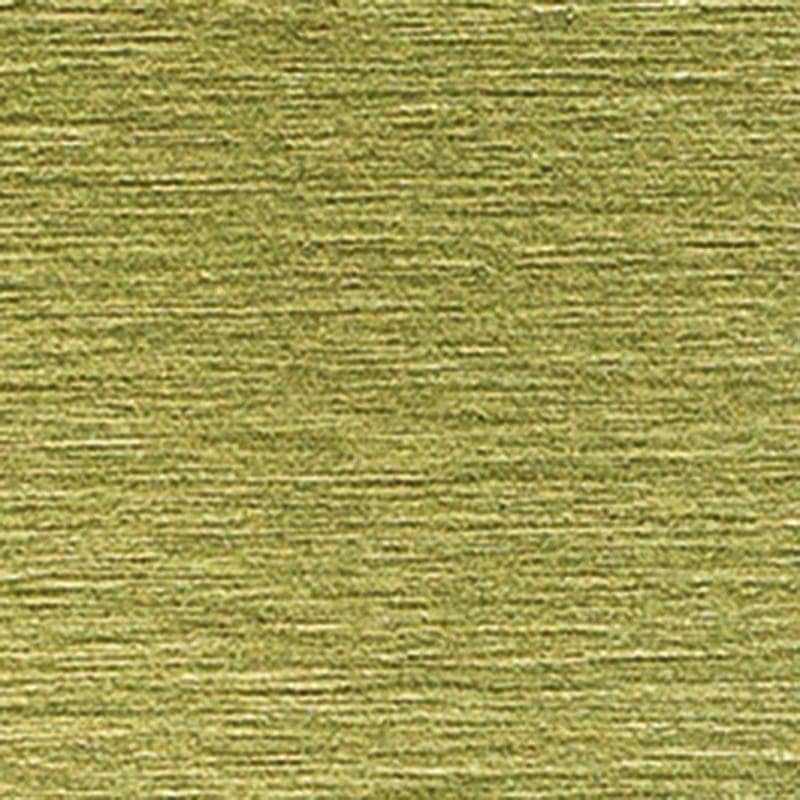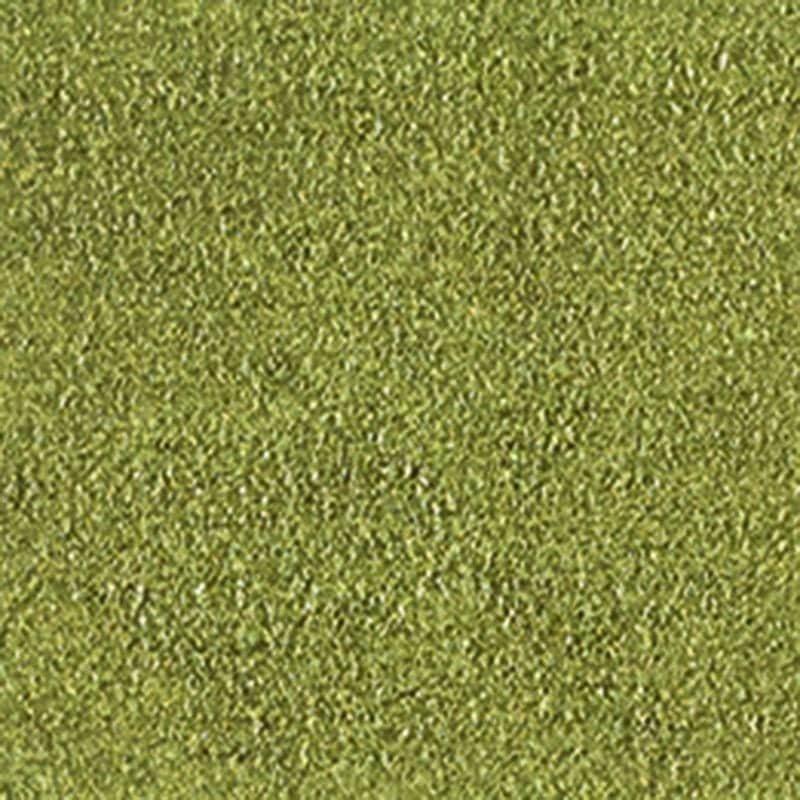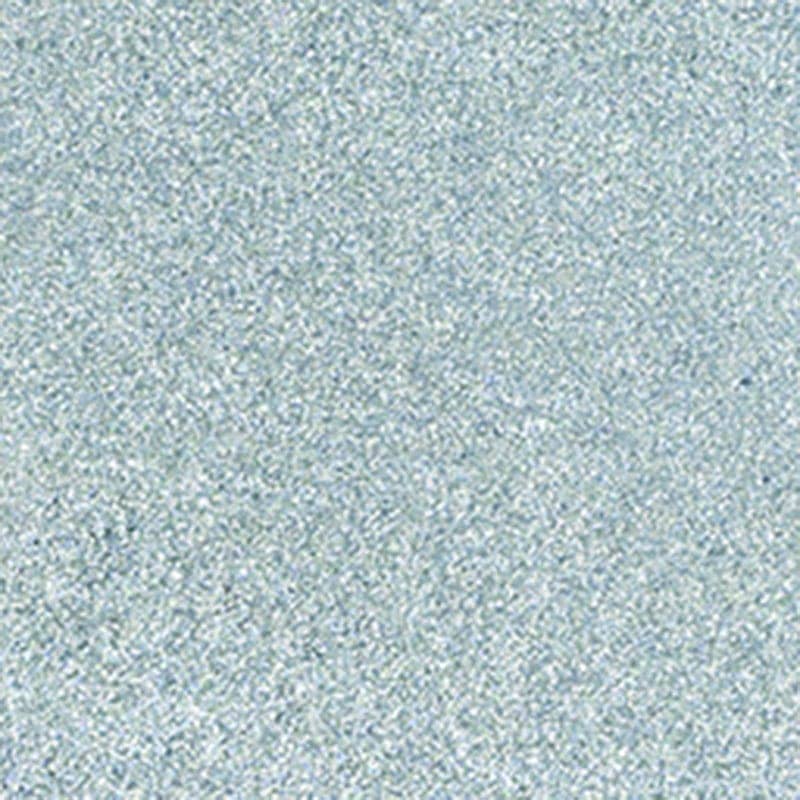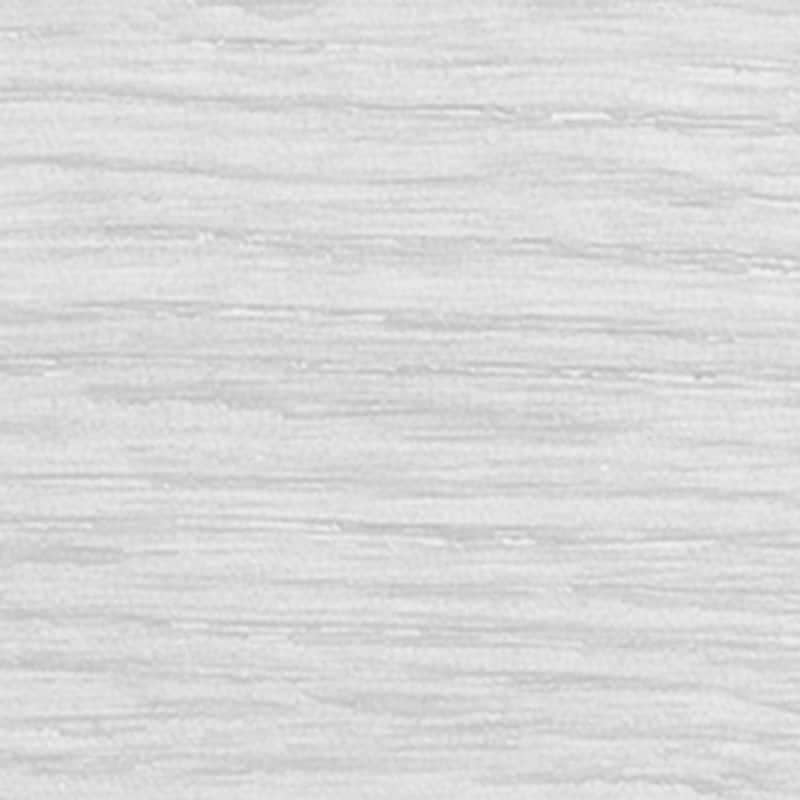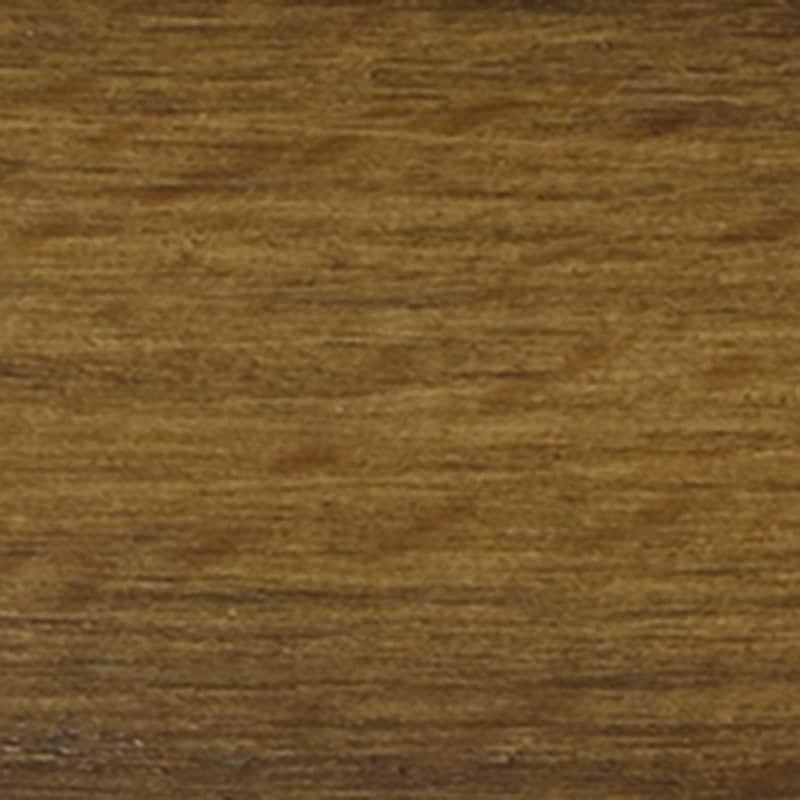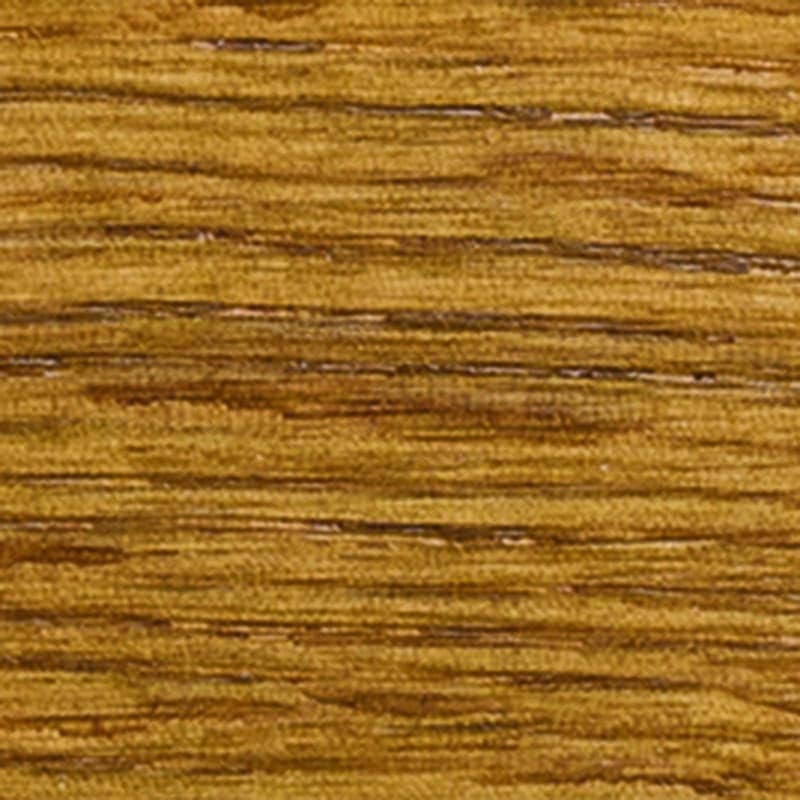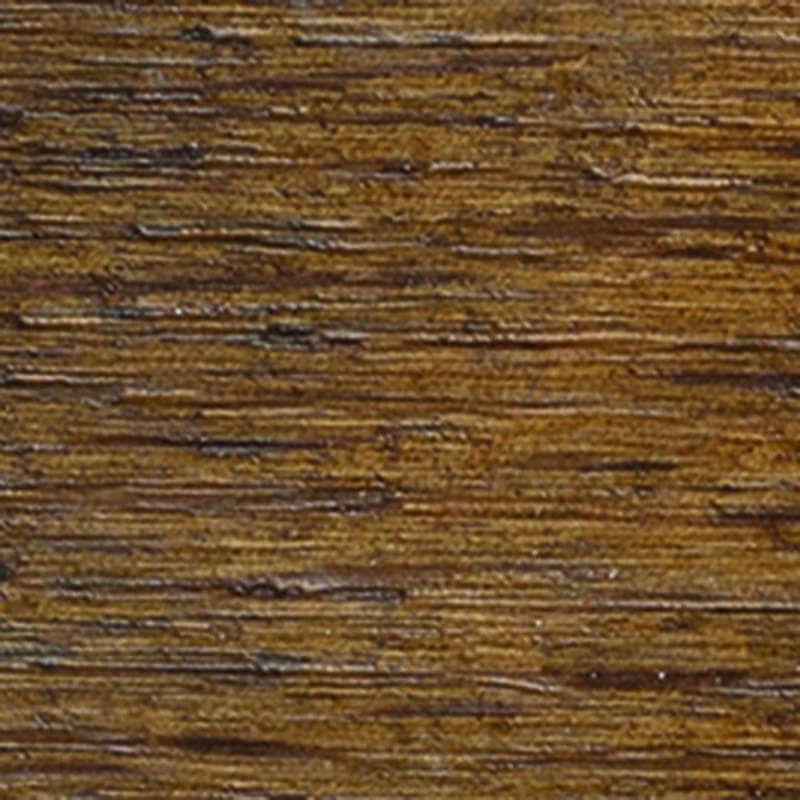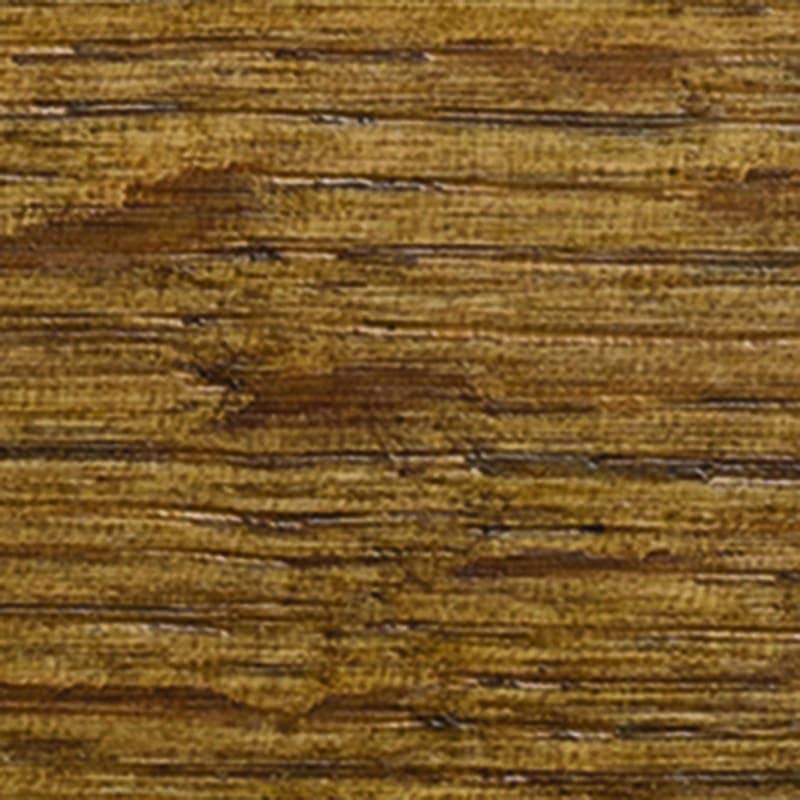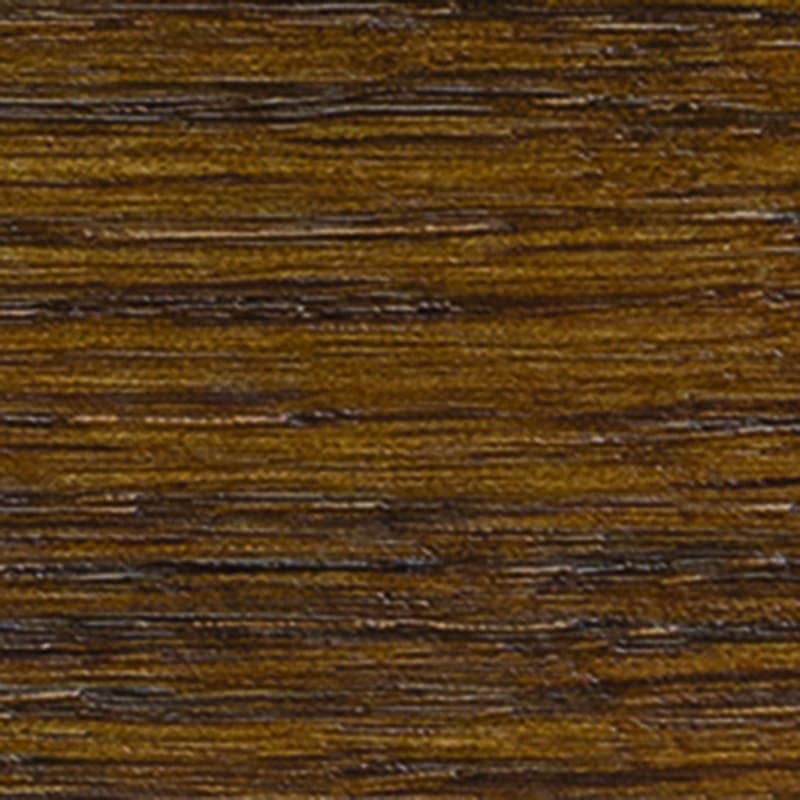 If you have a different finish in mind, please get in touch as we can colour match to thousands of paint colours or even match to your own sample. This is part of our bespoke service and we can provide prices upon request.
We also have 13 different seat pad fabrics to choose from when hiring our event furniture. But the choice is immense when purchasing – the world is truly your oyster. Choose from over 300 fabrics or supply your own.
Marquee furniture repairs service

When your furniture looks tired and in need of rejuvenation, our repairs and refurbishment service is here to lend a hand. We find that this happens towards the end of each season and we automatically rotate our stock so that we can take care of cleaning and repairs.
Our team have years of experience in refurbishing furniture, taking care of it for you and returning it to you looking as good as new. If you are running events while your furniture is with us, don't forget that you can hire replacement stock to tide you over.
Using only professional-grade lacquers, stains and oils to guarantee a professional finish, we offer four service levels:
Option 1: one coat respray in a colour of your choice
Option 2: as above, with a light sand to prepare your furniture
Option 3: as above, with a mechanical sand to remove flaky paint
Option 4: as above, with an initial coat of primer, two coats of lacquer and a sand in between coats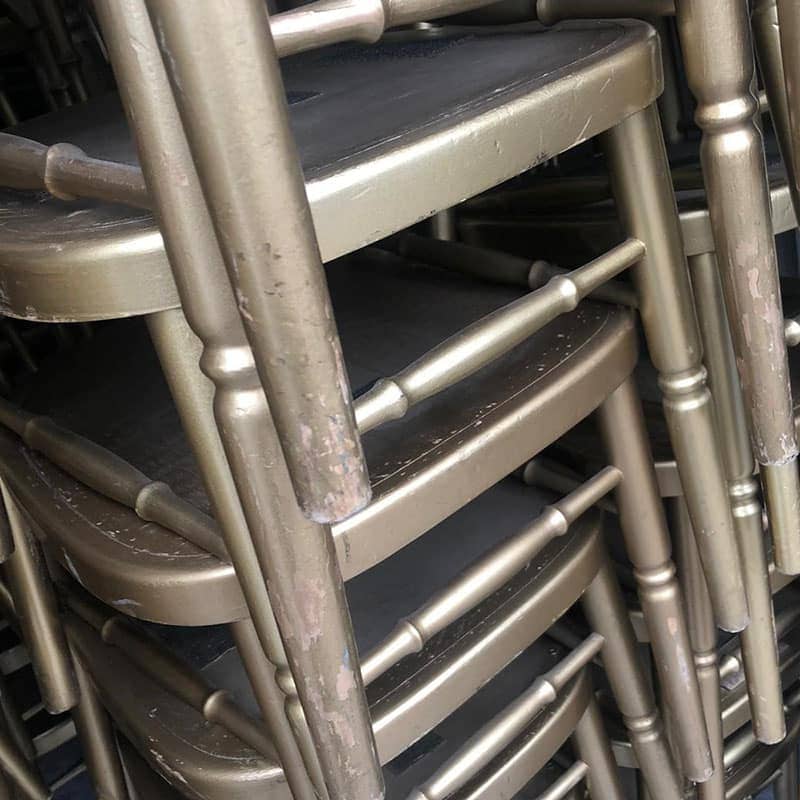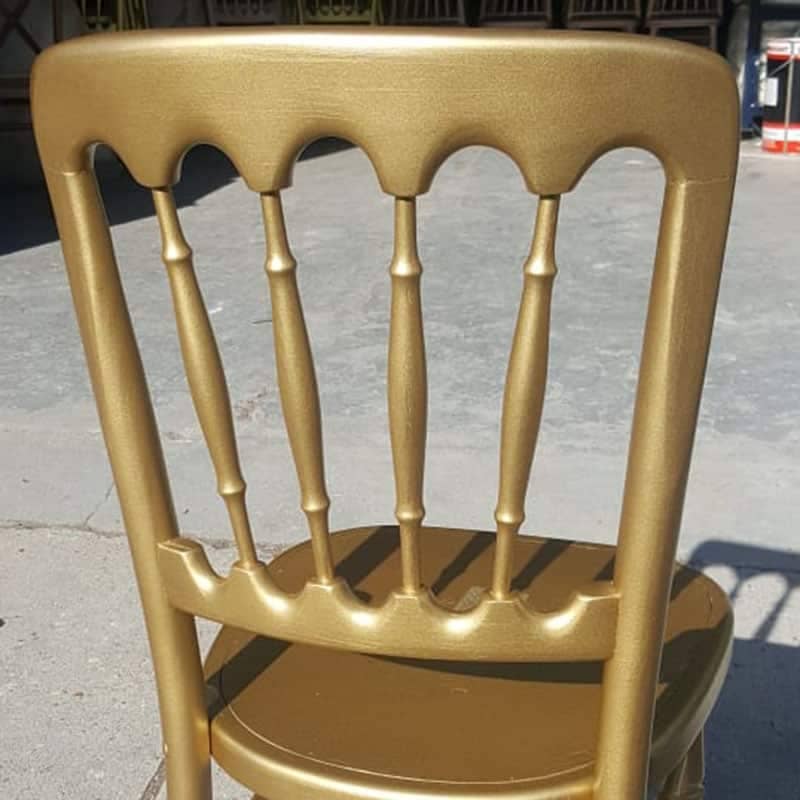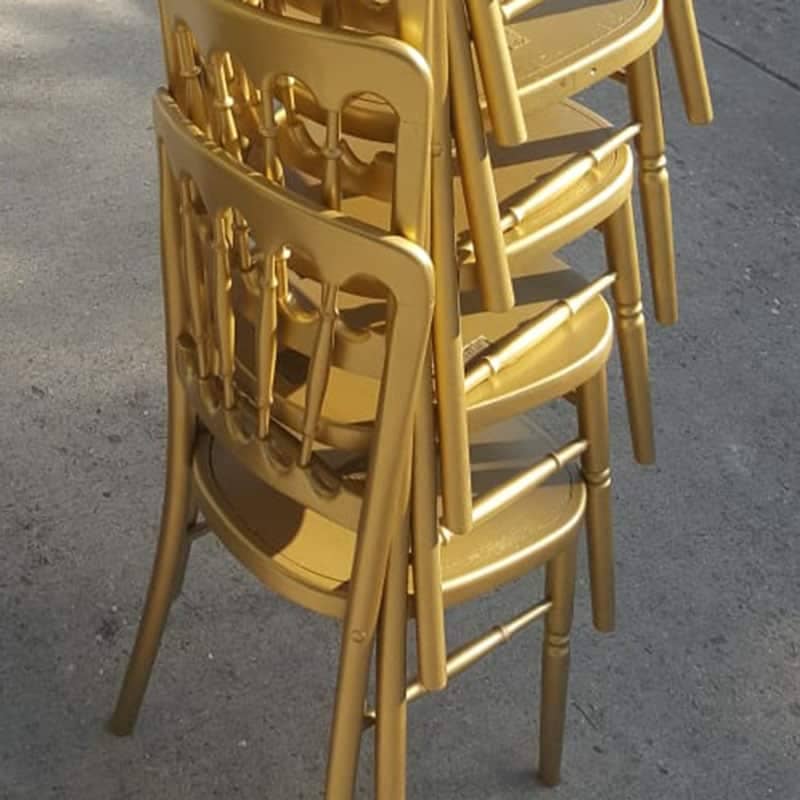 Having asked our customers for their feedback, we know that a reliable delivery and collection service when hiring from us is likely to be at the top of your list. There's nothing more frustrating than deliveries going astray or arriving with important items missing.
To avoid disappointment, we've worked hard over the years to perfect our delivery system. Using our own fleet of vans, we're on hand to oversee your delivery ourselves. Occasionally, we have to use couriers for remote locations but when we do, we only work with tried and tested delivery partners.
How much do our deliveries cost? We don't apply a standard delivery charge as our costs are postcode-dependent (UK and Europe), so please get in touch to find out more. We automatically calculate delivery costs when you place your order.
If you're buying from us, we're pleased to be able to deliver some products on the day you order, however this is always subject to availability.
When hiring furniture from us, please note that our delivery charges cover ground floor deliveries only. There may be an extra cost for deliveries made to other locations.
Make your marquees a success with Rosetone
Whether hiring or buying, we guarantee you won't be disappointed when you choose Rosetone as your contract furniture supplier. With a vast range of products, styles, fabrics and colours to choose from, every event you manage will look and feel polished and professional.
To find out more about our services, please get in touch and we'll chat through your options. You can contact us via email, phone or by filling in our contact form.